---
Don't Forget About Electives: Bringing Art, Music and Fun into Home Education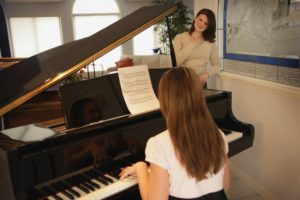 You're not alone in feeling uncertainty when planning the educational path of your children. Will they learn everything they need to know? Are they keeping up with their peers academically? Are you doing enough?
One of the biggest gifts you are giving your children when you choose to homeschool is time – time to explore and pursue their own interests, time to follow their dreams. Often these student-led interests can be tied creatively to academics. Sure, those core classes and dual credit subjects are important, but don't underestimate the value of electives. Here's why electives of all kinds should be an integral part of your home school.
Music
The study of music has a significant impact on brain development. According to some studies, students who are involved in music experience more neural activity and growth than non-musicians. Musicians have strongly developed spatial skills, helpful in many fields of study including architecture, medicine, engineering, and math.
Art
Participation in the arts is part of the cultural heritage of every human being. Promoting a study of art and theater enhances creativity, encourages appreciation of diverse cultures, fosters a love of learning and, according to recent studies, prepares students for the workplace of the future. A focus on the arts allows students to stretch their minds in ways that go far beyond standard academics.
Physical Education
Physical education is a link to good health. Making an active lifestyle a top priority shows students that good health, nutrition, and physical activity are as important as history facts, algebra, and dual credit studies. Students with active bodies have active minds. A healthy cardiovascular system increases concentration, attention span, and absorption of knowledge.
Wondering how to get started? Many home school parents find it easier to look for electives based on what the community has to offer. Maybe your community has a home school coop that offers fun electives. However, often the best way isn't the easiest way. We've found that the lengthy drives to debate clubs/tournaments, mock trial groups, and even World Affairs Council lectures and events have been of far more value than the cost and effort involved. Find those activities that are outside of academics that will give your child(ren) fantastic opportunities for personal growth!
Here's a current example from our home school. Because one of our adult children was recently diagnosed with a digestive disease, the "teacher" (me!) is suddenly VERY interested in nutrition. The book Nutrition 101: Choose Life! has allowed me to introduce this elective right here at home. So, not all electives will make the family calendar go crazy. Pick a subject or activity and find ways to make it work with your family's schedule.
The key to a fun and productive home school education isn't academics. It's finding the perfect balance between textbooks and creativity. It's allowing your student the opportunity to follow her own interests and create healthy habits. Electives are more than just something extra. They are what makes your homeschool diverse, unique, and perfect for each of your children.
Image source: DepositPhotos.com | Mnapoli