---
7 Ways to Get a Head Start on the Next School Year
This school year is winding down and many homeschooling families are preparing for a well-deserved summer vacation. Before you shelve the books and head to the beach, take some time to prepare for the next school year.
Here are 7 ways to get a head start and make the transition back to school easier for everyone.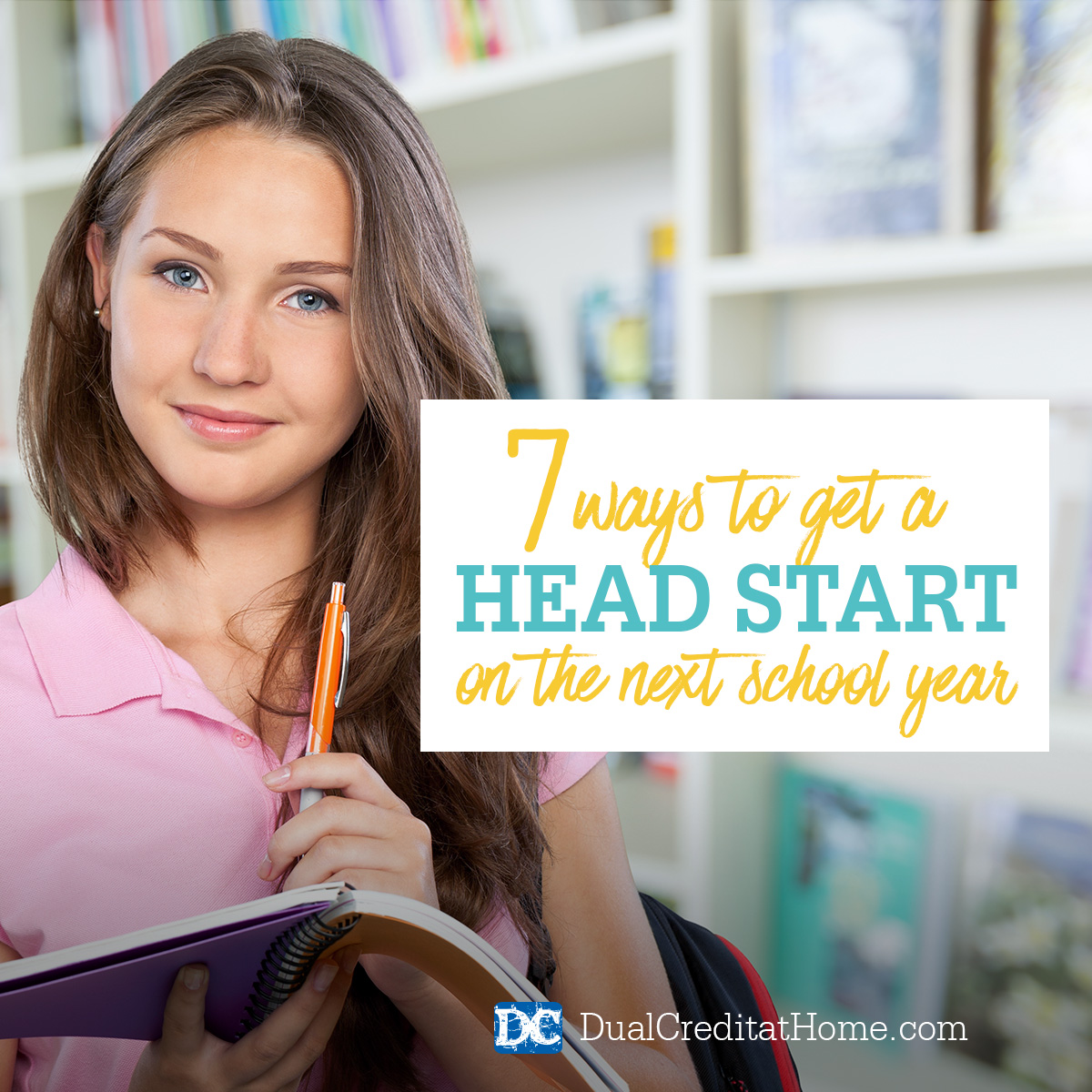 "Spring" Cleaning
It's amazing how much stuff homeschoolers can accumulate in the course of a year. Of course it's easier to stuff everything into a cabinet and forget about it, but tidying up your homeschool area now will make it easier to jump back into academics in the fall. Recycle old papers you don't need anymore. Throw away markers and pens that no longer work, and weed out books that you won't be using next year. Choose which papers you want to "save" for keepsake books, etc. and put those in their place.
Sell Your Stuff
After you weed out your curriculum that you won't be using anymore, why not sell it and make some extra cash to spend on next year's books? You can list your used books on a variety of sites online, or through your local homeschool group. Accidentally Homeschooling has a great post with advice on selling used curriculum.
Update Paperwork and Transcripts
The best time to update homeschool paperwork, test scores, and transcripts is right now while it's still fresh in your mind. If you have to send in paperwork to your state, do it before you finish up for the year. You don't want that hanging over your head all summer.
Discuss Educational Goals with your Family
Every year is a chance to fine-tune your educational goals for your students. Talk with your kids about what's been working for them and what hasn't. What are their favorite subjects, curriculum, and volunteer activities? Discussing this at the end of the year will help you make better plans for next year.
Order Books and Curriculum for the Next School Year
Late spring and early summer are great times to research and order books for the next school year. Not only are they often on sale, but if you get your books now, you'll have the whole summer to make your lesson plans.
Create a Four-Year Plan for Your Highschoolers
Once your students enter the high school years, organization and planning becomes even more important. Your records will serve as the official transcript for college admission officers. A four-year plan will help you keep track of your student's classes, extracurricular activities, and volunteer work. It will also help ensure that your students are properly preparing for the future after high school. We've created a free four year high school plan template to make record keeping easier.
Know and Plan for Your Limitations
The more homeschooling years you have under your belt, the easier it will be to learn from your mistakes. Take some time now to consider your limitations. Perhaps you (or your kids) need longer weekends, more field trips, or fewer worksheets. Or maybe you've realized that you can't do schoolwork in a messy house. Whatever limitations you've discovered over the years, now is the time to plan for them.
One of the wonderful things about homeschooling is that there's not a right or wrong way to do it. You can create a plan that meets your needs and those of your children.
Take some time now to get a head start on the next school year, so you can give yourself some much-deserved vacation time this summer.