America's national parks are some of the best classrooms around — perfect for learning about geological processes, biodiversity, cultural history, and land preservation.
There are 59 national parks in the United States, all with unique and amazing features, a huge variety of plants and animals, and many recreational opportunities. Each and every national park is an awesome destination for families, but these three are particularly fabulous for homeschoolers.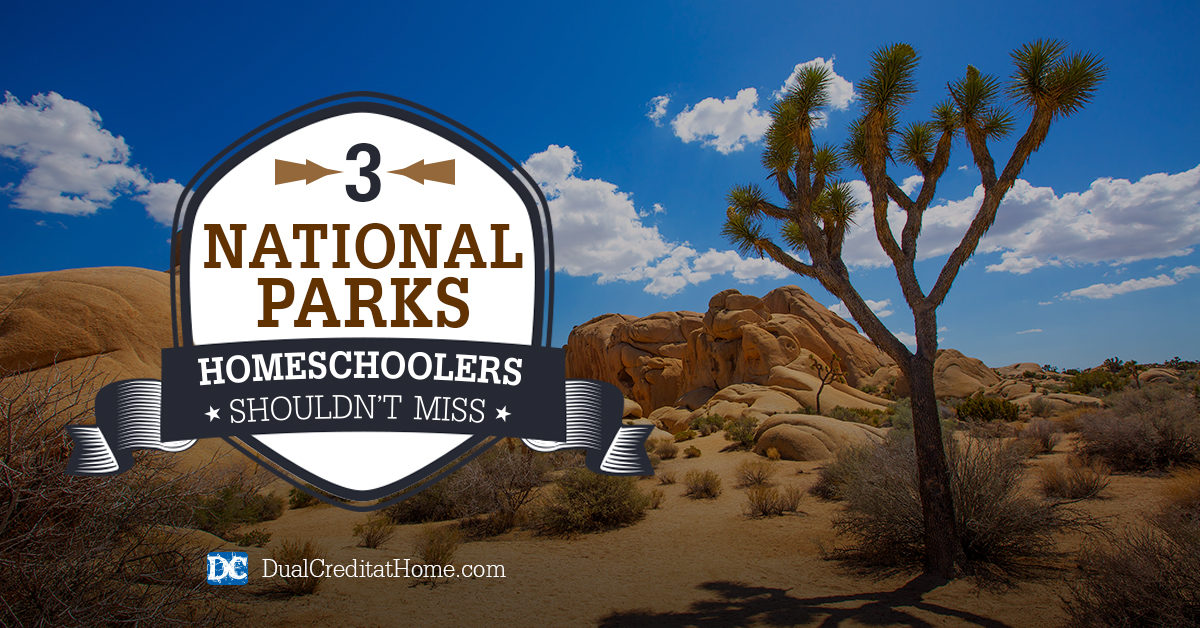 Joshua Tree National Park: Southern California
With more than 800,000 acres of desert to explore, Joshua Tree National Park provides endless opportunities for outdoor-loving families. The park's namesake, the many-armed, spiny Joshua tree, is only found in the Mojave Desert ecosystem between 2,000 and 6,000 feet above sea level.
The western half of the park is full of them, as well as giant boulders that attract climbers and hikers from all over the world. There are numerous family-friendly hikes in Joshua Tree, along with some interesting wild-west history. Be sure to take a guided tour of the Desert Queen Ranch for a look into what it was like to homestead here in the early 1900s.
Yellowstone National Park: Wyoming, Montana, and Idaho
As the first designated national park in the world, Yellowstone National Park is a must visit for homeschooling families. The park sits on top of an active volcano, and is home to more than 10,000 hydrothermal features (hot springs), and 500 active geysers.
As if that weren't enough, you can also explore more than 1,000 miles of hiking trails, 1,800 archeological sites, and 290 waterfalls. There are several wild wolf packs within Yellowstone, as well as grizzly and black bears, coyotes, elk, moose, deer, bison, and numerous other species of plants and animals. Because Yellowstone sees so many visitors in the summer months, we definitely recommend checking it out in the spring, fall, or winter.
Dry Tortugas National Park: Florida
Accessible only by boat or seaplane, Dry Tortugas National Park covers 100 square miles of open water, along with seven small islands, and the magnificent Fort Jefferson, which was built in the 19th century to protect the valuable harbor area off the coast of Florida.
It remains one of the largest forts ever built. Fort Jefferson was never attacked, but it did help to keep the peace for our fledgling country, before being used as a prison, and then a coaling station for warships. Today, visitors to Dry Tortugas can tour Fort Jefferson, snorkel and dive among the coral reefs and shipwrecks, and swim, fish, and paddle around the park's islands.
Ready to plan your national park adventure? Visit the National Park Service to learn more, and if you are interested in national park lesson plans, be sure to check out their fabulous array of educational resources.
Get Becky's Weekly Newsletter on Homeschooling High School
We will never sell or share your email address.