Many parents wonder if it's possible for their student to earn too many dual credits during high school, forcing them to enter college as a transfer student instead of a freshman.
The answer is a resounding NO, but let's explore the topic a little further for extra clarification.
BONUS RESOURCE: Get our free dual credit e-book to learn how our family used CLEP exams to save over $300,000 on college degrees!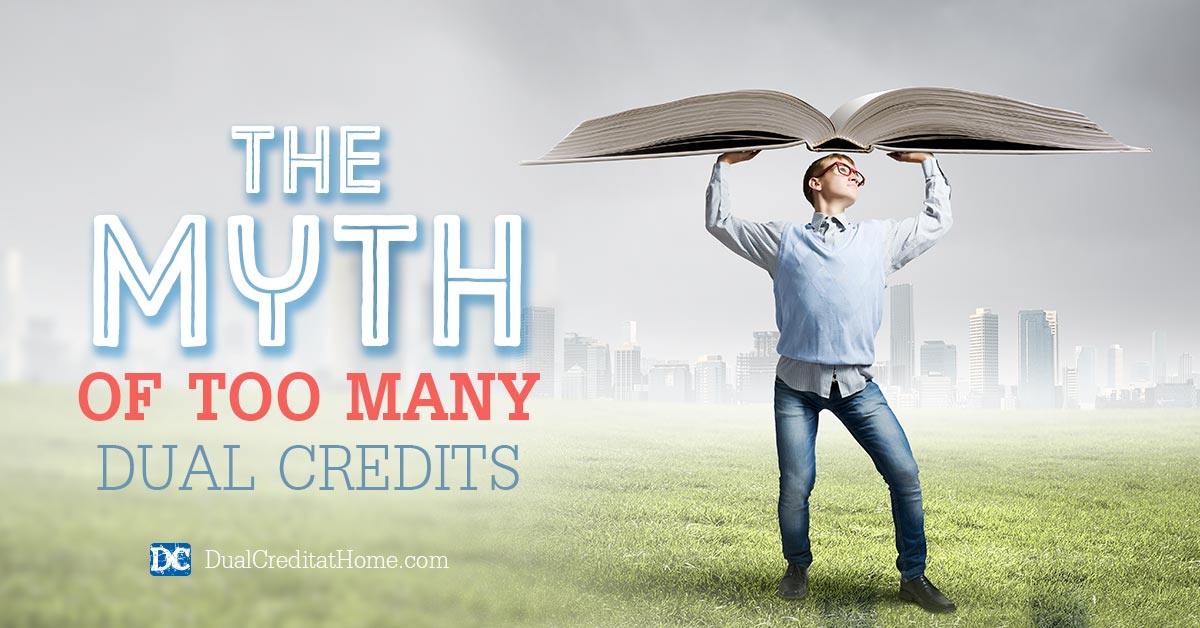 What is the difference between a freshman and a transfer student?
The vast majority of colleges consider all applicants who have not earned college credit after high school graduation to be freshmen. Applicants that have already graduated from high school and gone on to earn college credit – whether online, on campus, or by exam – make up the group of applicants known as "transfer students."
High school students, no matter how many college credits they have earned, all apply to college as incoming freshmen. That's right – it does not matter how many college credits they've accumulated during high school!
What does it matter if you enter college as a freshman or a transfer student?
The benefit of applying as a freshman is the fact that freshman applicants are considered for scholarships that are often not available to transfer students. Many students apply for these scholarships as freshmen to offset the cost of their education. It's a label, but a label that matters to many parents and students.
So my teen can earn 10, 30, or even 60 college credits and still enter college as a freshman?
Yes! Many parents unnecessarily worry that their teens will earn "too many" dual credits, which might cause them to be classified as a transfer student instead of the more desirable classification of incoming freshman. Fear not, parents. I have personally called several college Registrar's Offices to ask them this question…"Is it possible for my student to earn too many college credits during high school?" The answer has been "NO" every single time.
I have personally seen this play out over and over again in my own kids' lives and in many Dual Credit at Home students! One of our sons had earned over 80 college credits during high school when he applied to the University of Chicago, and they required him to apply and enter as a freshman. Additionally, many Dual Credit at Home students accumulate college credits following the Study Plans then choose to enter a college or university as a freshman and apply those earned credits to their degree plan – every one of them enter as freshmen.
The important thing is that the college credits were earned PRIOR to high school graduation.
If a student graduates from high school and then earns college credits, they will be considered a transfer student. This makes it very important for students to earn as many college credits as possible while they are still in high school! This way they get the best of both worlds – they will still be considered a freshman applicant and be eligible for scholarships AND they will have saved valuable time and money by completing several courses in advance.
Whether your students have earned three college credits or 60, as long as they're still in high school, they will enter college as freshmen. In fact, many colleges allow students to earn more than 60 credits through dual credit programs. Check with individual schools to find out their policy. Some have a minimum requirement for how many credits must be earned on their campus. And, as we do, you can always choose an accredited college such as Charter Oak State College that allows a high number of credits to be earned by exam.
FREE ONLINE WORKSHOP: Discover how your teen can use dual credit to earn an accredited degree during high school! Register now!
Do Your Research
Many individuals and businesses are misinformed about dual credit options and college policies. Well-meaning, home school-friendly companies often inadvertently provide parents and students with incorrect information based on faulty assumptions. And unfortunately, some companies and individuals mislead customers to make a sale or draw parents to their product or service.
The secret here is to do your own research. I encourage you to call the Registrar's Office of each college your child is interested in to find out their policy on incoming freshmen vs. transfer students. Do not rely on well-meaning individuals (not even me) to do your research for you. Not only will this give you the peace-of-mind you deserve, but you'll be able to make better-informed decisions about your options.
Dual credit is an amazing way to earn college credits in high school, and in this case, there just can't be too much of a good thing.
Get Becky's Weekly Newsletter on Homeschooling High School
We will never sell or share your email address.