Still making your holiday shopping list for your favorite students? These awesome gift ideas are perfect for homeschoolers — they are useful, educational, and most importantly—-really fun!
One important change I've made this year is to online shop. In recent years I've said I was going to shop online, but defaulted to the stores and their craziness! But there is no excuse to head out into the crowd, come home exhausted and totally not enjoy the Christmas holiday.
Plus, what's not to love about Amazon Prime? Login, choose, buy, and in two days it's at the door. This is the first year I've taken full advantage of this luxury, and the whole month of December has been transformed into a less stressful time of gift giving! (Click here for a free 30-day trial.)
Here are our top picks for gifts for homeschool teens this year, including sharing a few items from our own gift lists. Just don't tell the kids!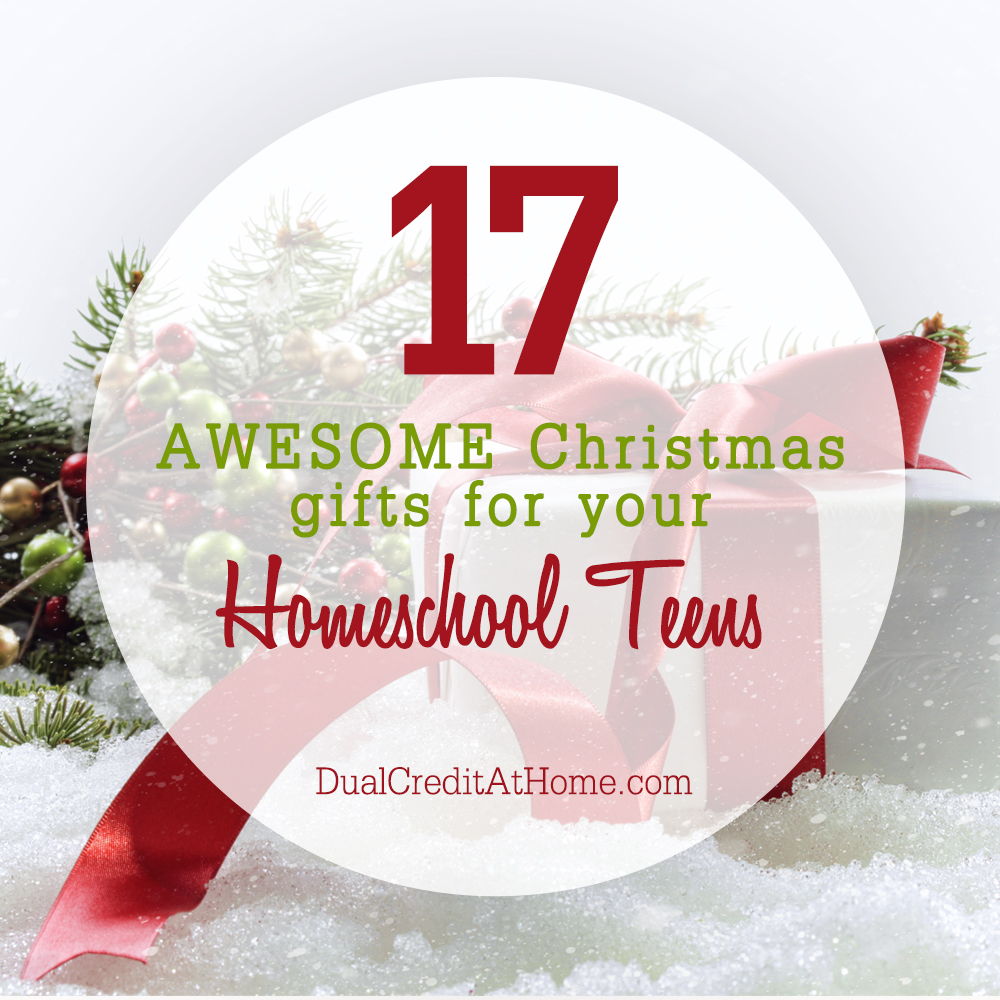 It benefits teens to be completely comfortable with the technology that they'll use during college – don't let them get caught off guard by having to spend their first semester of college learning technology they could have already mastered.
My oldest son didn't have a laptop until his first day on campus (which happened to be law school). It took him time to get familiar with the ins and outs of his online work and thankfully after everything was adjusted, he went from the top 25% of his class during the 1st semester to the top 4% by the end of the second semester. But I can honestly say that not having already taken this step was not my wisest move! I wished I'd been more proactive in this area above all others.
We've had Safe Eyes installed on the online devices in our house for years. It's an easy way to protect your family and keeps you informed of all online activities. I like to set my settings so that internet access isn't available after 10pm on school nights. I set up a user account for each of my kids, so I can allow a certain number of hours per day for internet usage. The settings are easy to adjust and I wouldn't give my teenager a laptop without having done a quick install of Safe Eyes.
Having access to study materials (apps and books) on the go can give your teen more study time. Teens don't usually need the top of the line and this Kindle isn't, but it's enough to be a great tool for them!
Having their own zip drives can help your teens save their school work and then access it from any computer. Zip drives have come in handy around our house for school projects such as a PowerPoint presentation in speech class when the teacher provided the computer and projector and each student just brought their presentation on a zip drive.
Help your teens learn about the basics of electronics and circuitry with this beginner-friendly kit. Snap Circuits has won numerous awards for its ingenuity and educational value. It's a classic!
Many homeschooled teens are familiar with Brett Harris from The Rebelution. Here's a blog post on The Rebelution's website about this highly acclaimed brand new novel, Counted Worthy.
This digital drawing tablet helps your students to draw, paint, and sketch on your computer using a compact stylus and tablet. The pressure-sensitive pen allows for lines of different thickness and styles. This is a great tool for budding artists of any age range.
This leather backpack has been one of our family favorites! It's rugged enough to handle all the wear and tear of my active 12 year old---he loves the compartments and I love the fact that it doesn't show dirt!
Season Passes to Your Teen's Favorite Place
The sky's the limit with this one and if you use your imagination, you can probably think of dozens of places where your child can learn and grow. What's more, this gift lasts the whole year and won't clutter up your home.
Head Phones (for older teens) or Ear Buds (for younger teens)
I think of head phones as blocking out sound, too! My kids get so much more done when they aren't distracted by all the commotion around them. Whether you're rewarding an older teen who has proven to be responsible to care for electronics or starting out a younger teen with their own good set of ear buds, one of these two gifts would be really appreciated.
I love to find ways to keep inspirational quotes and favorite Bible verses that I come across online in front of both me AND my kids! A frame with clips similar to this one would help your teen keep some of their "clutter" neatly organized and on display! Here's my favorite way to keep these visible at our house.
Paul Chappell's Stewarding Life planner is a great way to bring organization into your teen's daily schedule. And, because I think so much of Paul Chappell's books, I'd also recommend his devotional book for your teenager. Most of our kids don't just jump up and down with books for Christmas, but my kids have always been great about balancing one or two life-changing books with a gift that's maybe, um, more "exciting!"
Hobby favorites
Christmas is a perfect time to take advantage of any hobbies that your kids have or are starting to express an interest in, such as photography (a new lens, a camera bag) baking (specialty pans, unique ingredients and perhaps a beautiful cookbook), or a sport (backpack, gym bag, FitBit).
Stocking Stuffers
Some of the items I like to include as small gifts are a keychain (this is a big deal for a new driver – especially if it has a car key on it), favorite candy bars, office supplies for their own desks (paper clips, stapler, post it notes), small gift cards for ITunes, Sonic, Panera, etc.), Converse shoe laces, and unique magnets and bookmarks from a bookstore such as Barnes & Noble. I try to remember everybody's favorite flavor of Pringles because that can fills a stocking perfectly . . . and for 99 cents you can't beat it!
Another favorite stocking stuffer I like to give are little Moleskin paperback notebooks. Your teens are probably like mine and keep their notes on their phones, but sometimes it's handy to write something down. My husband uses these way more than the kids do, but they're handy (and high quality) for everybody!
Here are 3 more books that I can't help but recommend!  Every teenager should get at least one GREAT book for Christmas!
Get this book for your teen if you want them to learn to enjoy life without having to "have it all" or "do it all."
The author's note on the front says it best . . ."If we are brave enough often enough, we will fall. This book is about what it takes to get back up."
This book will change the way your teen understands success, and likely change their life as well! I've read it. Most of my kids have read it. And I was super excited to see it required in Charter Oak State College's Cornerstone Course that one of my kiddos completed recently. It's an eye-opener!
We hope this gives you a chance to focus on what Christmas is about instead of all the crazy traffic and the crowds. Merry Christmas from Dual Credit at Home! We wish you a peaceful, restful and worshipful Christmas time!
(This post contains affiliate links. You can read our disclosure statement here.)