Instead of having your kids study the same subjects twice in high school AND college, they can study them once, take an accredited exam, and earn the same amount of traditional college credit by spending less time and less money.
Dual Credit at Home will guide your student through 13 college-level exams to satisfy both high school and college core requirements. These exams give students the opportunity to earn up to 51 college credits!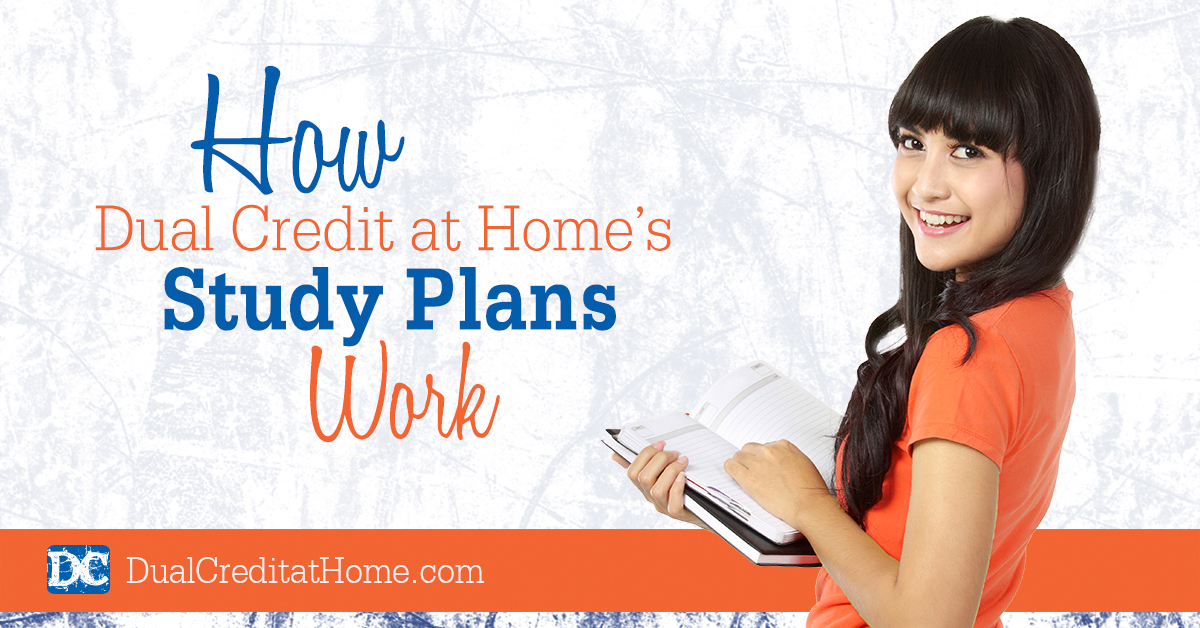 To help your student prepare for these 13 CLEP & DSST plans, we deliver 49 weeks of study plans – one week at a time – directly to your email. These weekly test preparation assignments help your student feel confident and equipped to pass each exam with flying colors.
The ideal time to begin the Study Plans is during high school. However, many students begin at a younger age and go through the program at a slower pace. Even if a young teen takes two or three years to finish the program, they are still years ahead of most traditional college students! The program also works for young adults who have graduated from high school but would now like to accelerate college.
When a student subscribes to the Dual Credit at Home program, we immediately mail their Getting Started Pack – which contains their notebook, Exam Calendar, book list, and program information. Students also receive the books Life Quest and Biblical Guidelines for Using the Internet.
This Getting Started Pack also contains a short list of things to do before your first Study Plan arrives in your Inbox. We allow 2-3 weeks for you to purchase your books (many families save money by ordering used books online) before we send you Week 1's Study Plan. You can expect the Getting Started Pack to arrive quickly, and the first Study Plan will hit your inbox the 3rd Monday following enrollment.
Each weekly Study Plan, along with that week's Extra Mile Assignments, is emailed to students (or parents) on Monday mornings. That email contains a brief overview of the week and two download links – one for the Study Plan and one for the Extra Mile Assignments. The downloads are provided in PDF format so students can print them and place them in their notebook (which contains numbered tabs for easy organization). This notebook works great for students who prefer an organized approach to school, while at the same time, it forces (in a nice way) organization on students who don't naturally have that bent!
Over the course of the week students complete the lesson plans. Every family can easily flex the schedule around their family's activities. It may take you longer than 49 weeks to finish the full program, but this flexibility can give your students time for other things in their schedules such as mission trips, volunteer work, a part-time job, music, sports, and other extracurricular activities.
The Study Plans are numbered by the week and by the day. Each Study Plan has a number – Week 1, Week 2, etc. Each day within that week is also numbered – Week 4 Day 1, Week 4 Day 2, etc. This method of numbering the Study Plans/Days allows flexibility – it's YOUR family and YOUR school, so YOU determine the pace. When a day(s) is spent on other educational activities, you won't feel "behind," your student will simply pick up right where they left off.
The 49 Study Plans prepare your student to pass 13 CLEP and DSST exams (worth 51 college credits) by following a set study schedule for the following subjects:
U.S. History I and II
Analyzing & Interpreting Literature
Natural Sciences
Introduction to World Religions
College Mathematics
American Government
Social Sciences & History
Geography
Public Speaking
Humanities
College Composition
Business Ethics & Society
Two subjects are studied simultaneously with all of the above core subjects covered over the 49 week time frame.
Most subjects are studied for five weeks, while some are allowed seven or eight weeks of study time, and a typical day is about 4-5 hours of study. Students are instructed when to schedule their official exam at a testing center near them. Each subject is tested by taking the official CLEP or DSST exam when the student finishes the study of that subject. On the following school day, a new subject is introduced.
To complement the test-prep studies, we have created weekly "Extra Mile Assignments." These are optional assignments that add approximately 45 minutes of study time per day and include reading through the Bible chronologically, following two blogs, keeping up with current news events, learning world geography, writing a 5-paragraph essay once a week, and some additional reading for personal growth.
All enrolled students have email support available throughout the time they are completing the Study Plans. And once a family purchases the Study Plans they may be used by all students within that family!
Ready to learn more? Download a free Study Plan and see for yourself how Dual Credit at Home can help your students reach their educational dreams while saving time and money!