---
Building Your Family Box
When I was a little girl, I loved going to Dallas to see my grandmother. She still lived in the home where my father grew up and history was found in every corner.
One of my favorite activities was to sit for hours in her attic. The dusty, damp room with it's slanted ceiling and wooden floors held treasures beyond my imagination. An old sewing machine, dated postcards, letters home from the frontline of war, and boxes of handwritten receipts from the family dry cleaning business.
My favorite treasure was a very large box of family photos, letters, and documents. The box was torn in places but sturdy enough for me to drag to the center of the attic. I would sit on an old footstool for hours, drinking in the stream of history.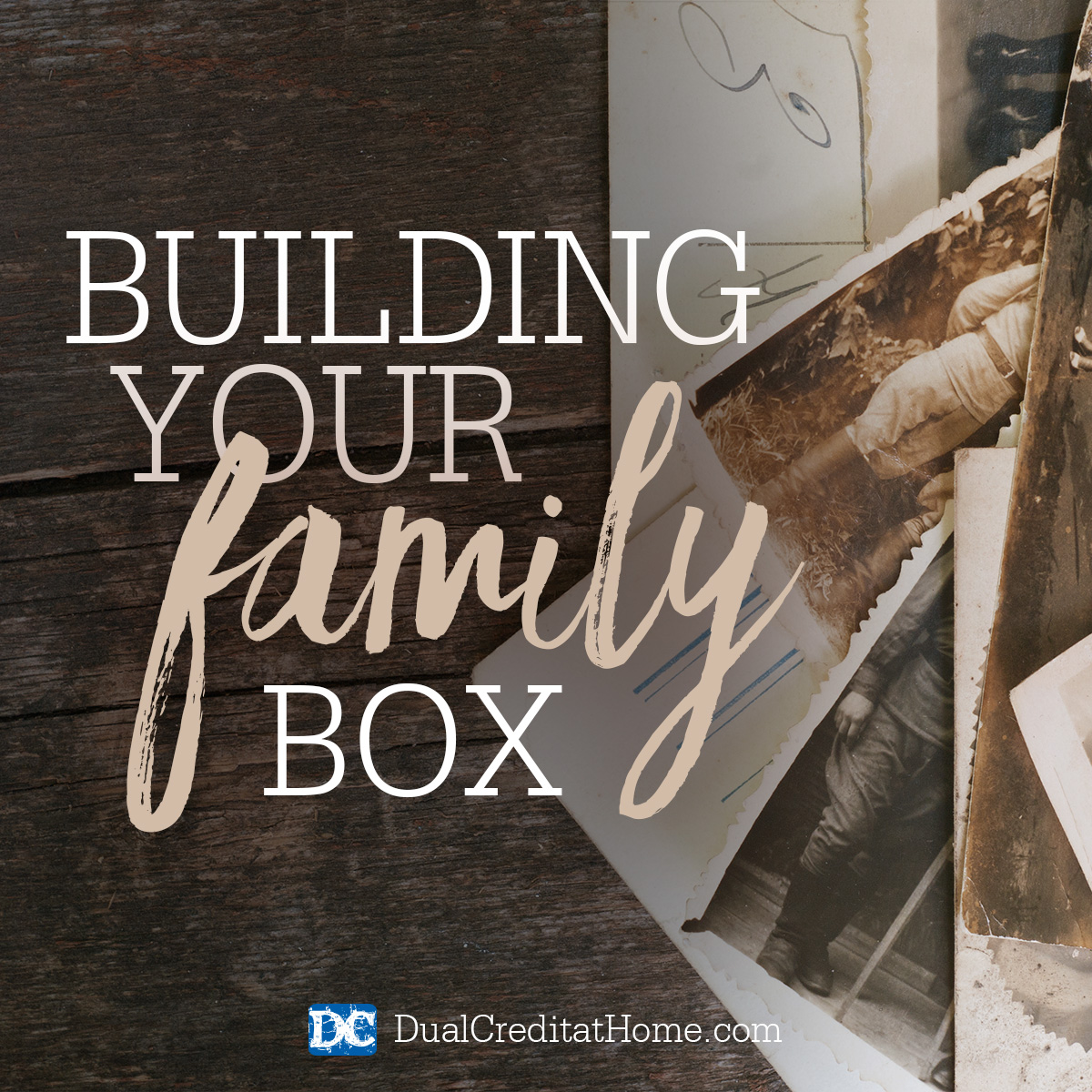 In this age of digital photos, electronic files and minimalistic mindset, what treasures are we leaving for our children to explore? What pieces of history are they able to easily find? Can we create a sense of excitement about their family tree within the walls of our own home and still follow current trends? Absolutely!
Family Photos
Remember that old box I mentioned? You can create your own box of treasures by making a folder on your computer in a family friendly area.
Ask relatives to send you scanned family documents and photos with a brief explanation or title. Each time something new is added to your folder, leave a little note so they will know that a new treasure is waiting to be discovered.
Famous Family Members
Many of us have family members who have done something noteworthy, yet we fail to share these feats with our children. Perhaps we've forgotten, or only have pieces of the story.
In our family tree is a man named Horace Woodroof. During the Depression, Horace was convicted of a being with two men who committed a crime.
Even though he didn't participate, he served 50 years in prison before being honored and pardoned by the governor for his work teaching fellow inmates a trade. There was even a book written about him. Who knew!
Ask your family to send the names of relatives who've been publicly recognized for something special and then research the details together. Once complete, add your research to your family box. Chances are you have a living history lesson in the branches of your own family tree.
Make It Count
Family history and a sense of belonging is important. Children want to know that relatives like Great Uncle Horace were good people and made a difference in the lives of those with whom they interacted. As a bonus, consider using your family box as extra credit.
Allow your student to write a report on a distant family member or the history of a family business in exchange for an extra grade for a difficult subject. The blessing of family knowledge will far outweigh the extra credit points!
My grandmother passed away nearly 20 years ago and I still have a box of things in my closet that came from her attic.
I open the box every once in awhile just to smell the musty reminder of the dark, damp attic I enjoyed as a child.
I patiently wait for the day that my grandchildren will sit on a stool with me, carefully thumbing through the pictures and listening to stories about our family. They were great people with fascinating lives who lived in times of bountiful blessings and challenge.
They molded my family tree…each and every branch.