Good recordkeeping is an essential skill for homeschooling parents — one that should not be ignored, or even set aside for a rainy day.
The secret to keeping all those records in order is creating a process that you'll actually follow.
Here are some easy recordkeeping tips that will make your paperwork easier.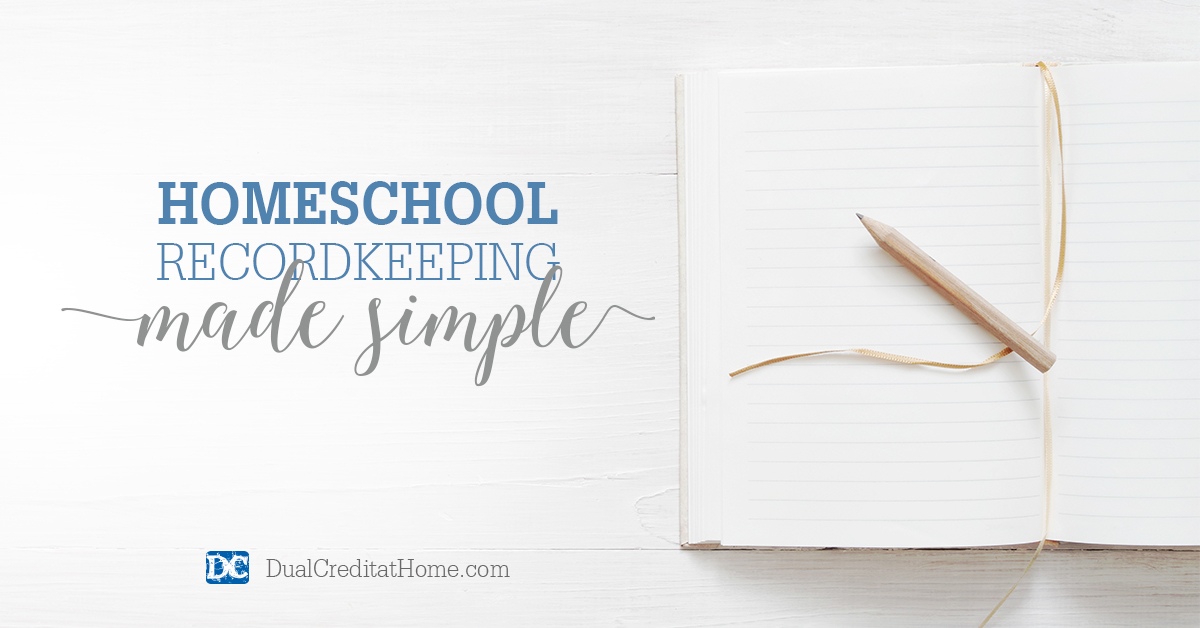 What to do at the Beginning of Each Year
Before you begin another year of school, there are some important recordkeeping tasks you should tackle.
The first is to develop a system that you can work with throughout the year. Some parents keep all of their files stored digitally on their computer, while others will be much happier with a binder or an accordion-style file folder.
The following tasks should be completed when you start the year.

Write descriptions for each of your student's upcoming classes – Include a short syllabus for each course, which textbooks you plan to use, whether the class is honors, AP, or college prep, and how you will be assessing your student's work.
File any necessary paperwork with your state or local school district – Here in Texas, we don't have to complete this step, but every state has different regulations for homeschoolers. If you do have to file your records, make sure you file on time and keep copies for yourself.

If you have high school students, start a transcript – it's no fun waiting until your teen's senior year to create a transcript. At Dual Credit at Home, we have a free high school transcript guide and template you can download.
We know all of this can be overwhelming with multiple children, grades, and activities.
Making time for this in your yearly schedule can help you feel better about not trying to juggle school WHILE trying to set up your records for the year. Why not make a day or two for the "Teacher" each year?
Monthly Recordkeeping Tasks
Taking time at the beginning of each month to do a little recordkeeping will keep you from forgetting important projects, milestones, field trips, and events that your student completes.
Here's what you should do on a monthly basis:
– Keep a running list of the books your student reads.
– Record field trips, awards, volunteer work, and classes that your student takes outside of school.
– File away samples of your student's work from the beginning, middle, and end of each school year in every subject.
– As your students complete courses and earn credit, make a note of final grades for their high school transcripts.
Weekly Recordkeeping Tasks
Yes, there are a few tasks that should be completed at the end of every week. This includes an attendance record, grades for assignments completed that week, and a log of the hours your student works in each subject.
All-in-all, your weekly recordkeeping tasks will take 30 minutes or less, but it will make your monthly and yearly tasks so much easier.
While recordkeeping can often seem like a tedious task, the truth is that keeping track of your student's achievements will be helpful in many situations.
Detailed records are critical when completing an impressive high school transcript for your teen. They are also very helpful to use when your student begins applying for scholarships and colleges. You can learn how to keep detailed transcript records by attending my free online high school transcript workshop.
Tips for making it Simple
Recordkeeping may not be the most exciting homeschooling assignment, but knowing what you need to do each week, month, and year can help take off some of the stress.
Here are some ways to make this less complicated:
– Create and print a checklist and keep it handy to remember what you need to do, and when you need to do it.
– Use your calendar, whether digital (with reminders) or paper, to plan when you will do your yearly and monthly recordkeeping. If you set aside the time for it, it's so much easier to accomplish!
– Involve your teens. They can help you to log their hours, write down the books they've read, and even file papers or projects in a specific place for their yearly record.
– Make it fun for everyone by making "record day" a pizza or game night, art day, or even "documentary day".
Resolutions and records both can be so much easier than they sound when we make a plan for how to accomplish them.
It takes time in the beginning to organize and schedule, but when that foundation is laid and the time is picked, the battle is nearly won!
Get Becky's Weekly Newsletter on Homeschooling High School
We will never sell or share your email address.