Last week we began a journey in the first of a two-part blog, Embracing Your Teen's Decisions With Love.
Although it would have been nice, my husband and I didn't step into parenting teenagers with a simple 13th birthday party.
When our oldest was still a preteen, we were blessed with the opportunity to provide a forever home for our twin nieces, who were 14 at the time. They spent much of their early lives being shuffled between a wonderful Christian children's home and time with other relatives.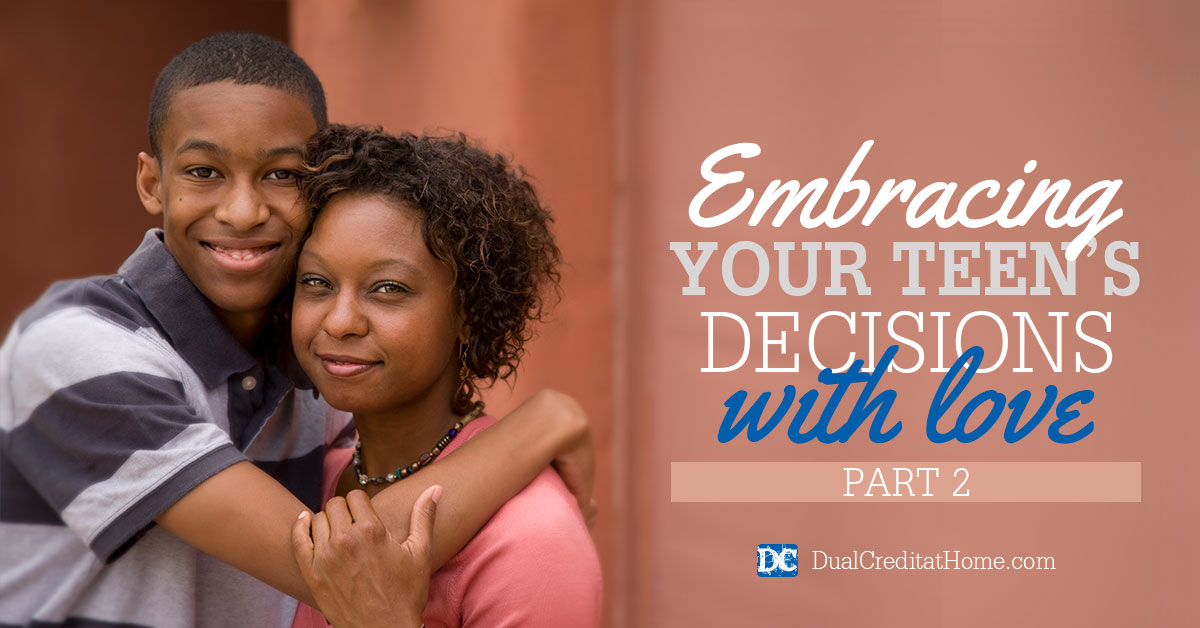 The road of communication God designed between a parent and a child had not yet been constructed. We were all going to have to learn together, and quickly!
As parents, we want our children to think morally and ethically.
Our hearts desire only good choices and an easy road for them, but realistically, we know that they will face all kinds of decisions as they grow.
Are they going to make poor choices at times? Absolutely! When we strive to communicate well, listening carefully is just as important as asking good questions. Here are a few things to listen for…
Think big picture.
Does your child understand the full scope of their decision? Leaving a job they don't like, buying a first car, and committing to an overseas mission trip are examples of decisions that require big picture thinking.
Rather than telling your teen the things you see as potential challenges, try asking them to tell you what they expect to happen as a result of their decision. Will the loss of employment affect their ability to pay their cell phone bill or car insurance? How do they plan to finance their trip overseas? What about a passport?
By helping your teen think clearly through the challenges and benefits of their decisions, you will teach them to analyze choices from a different perspective. Additionally, by giving your child an opportunity to tell you their reasoning first, you can praise them for any points they clearly thought through.
Technology trap.
Have you heard the expression Facebook families or a Pinterest wedding? It refers to a person's tendency to post on social media and create an unobtainable idea of reality. They see images or ideas and strive to duplicate it, oftentimes becoming disappointed in the result.
If your teen's decision making is heavily driven by the influence of others through social media, you can still help them make great choices by…
Exchanging screen time for in-person interaction. Invite a group of friends over for dinner,a board game night, or a campout. It's ok to say "No screens allowed" during a portion or all of the time together.
Offering to help your child investigate what it would take to recreate the images or ideas they found. Sometimes a great idea will remain just an idea if they have a better sense of what it would take to make it happen.
Not letting them focus on comparisons. A new iPhone like the one Suzy Q posted pictures of isn't always as intriguing once responsibilities like payments, insurance, protective cases, and data plans have been uncovered. They do not have to have something just because it's wildly popular on social media….and Yes! It's ok to require your child to earn money and pay for things like a phone, laptop, or car.
What makes a friend.
I wish making friends was easy! At some point, your teen is going to be drawn to a friend of which you will not approve.
Since they will continue to make friends throughout their lives, it's important to help them learn how to choose their friends wisely. Ask what quality drew them to their new friend. What things do they have in common? Is this a friend that shares similar goals and expectations?
Sometimes it's necessary to tell your teen the friendship should not continue to develop for one reason or another. Trust your gut. Giving your child an explanation of what challenges you see with that friend in the future will help them better understand what qualities are important.
Everyone has to make decisions and God gave us the responsibility to teach our children to make wise ones.
Continue to strive for open communication with your teen. Ask questions and listen to their reasoning. Most of all, pray. Thank God for the gift of your child and ask for guidance and strength as you teach them to make decisions that will honor Him.
Get Becky's Weekly Newsletter on Homeschooling High School
We will never sell or share your email address.