Learning about robotics is a great way for homeschooling teens to get hands-on experience with engineering, mathematics, technology, and problem-solving skills.
If your teen is new to the concept of building robots and beginner coding, check out the following list for some resources to get them started.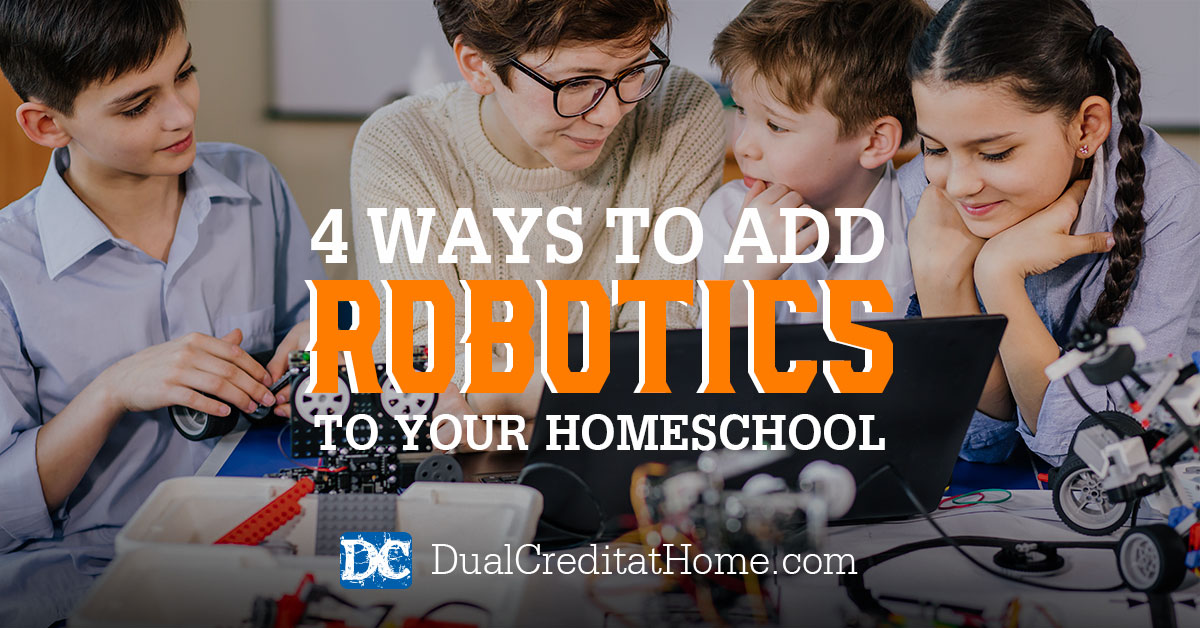 VEX Robotics
VEX EDR is a full robotics curriculum designed for middle and high school students. The program uses modular and project-based lesson plans for hands-on learning – a win for a variety of learning styles. Competitions add an additional challenge your teens may enjoy.
The curriculum includes 13 modules that introduce your student to the basics of engineering and robotics. Next, students will dive further into computer programming, robot design, and mechanics.
The VEX EDR curriculum is very thorough, and while it is designed for classroom use, many homeschoolers have used it successfully.
The lesson plans are free, but the robotics kit requires an investment.
Engineering Go for It
This website has tons of engineering resources for all ages. Students can learn to program a Roomba vacuum cleaner, engineer a bee, and much more.
The eGFI website is brought to you by the American Society for Engineering Education, and provides complete lesson plans, activity guides, internet resources, and news for engineering enthusiasts.
Lego Education
If your teens grew up with Legos, than using them to learn robotics and programming may be a logical next step, and a lot of fun besides!
Lego Education provides lesson plans for teachers that introduce middle and high school students to engineering design, scientific inquiry, and data analysis.
Lego Education sponsors science, technology, and robotics competitions throughout the United States, as well as the World Robot Olympiad, which brings together robotics students from more than 60 countries. Most of the robotics lessons use LEGO® MINDSTORMS®, – these are not free.
NASA
The NASA website is a great place to start for students wanting to learn robotics basics.
In addition to an overview of robotics, students will find videos, images, career summaries, and online resources. For teachers and homeschool parents, there are a selection of lesson plans for K-12 activities.
Teens can learn to control robots with a calculator, create robotic arms, and plan a mission to Mars.
As technology becomes more complex, it will be increasingly important for our students to be critical thinkers, innovators, and problem solvers. Learning robotics is a fun and creative way to develop these skills.
Get Becky's Weekly Newsletter on Homeschooling High School
We will never sell or share your email address.