The DSST exams, formerly known as DANTES Subject Standardized Tests, are a great way for homeschool students to earn college credit in high school.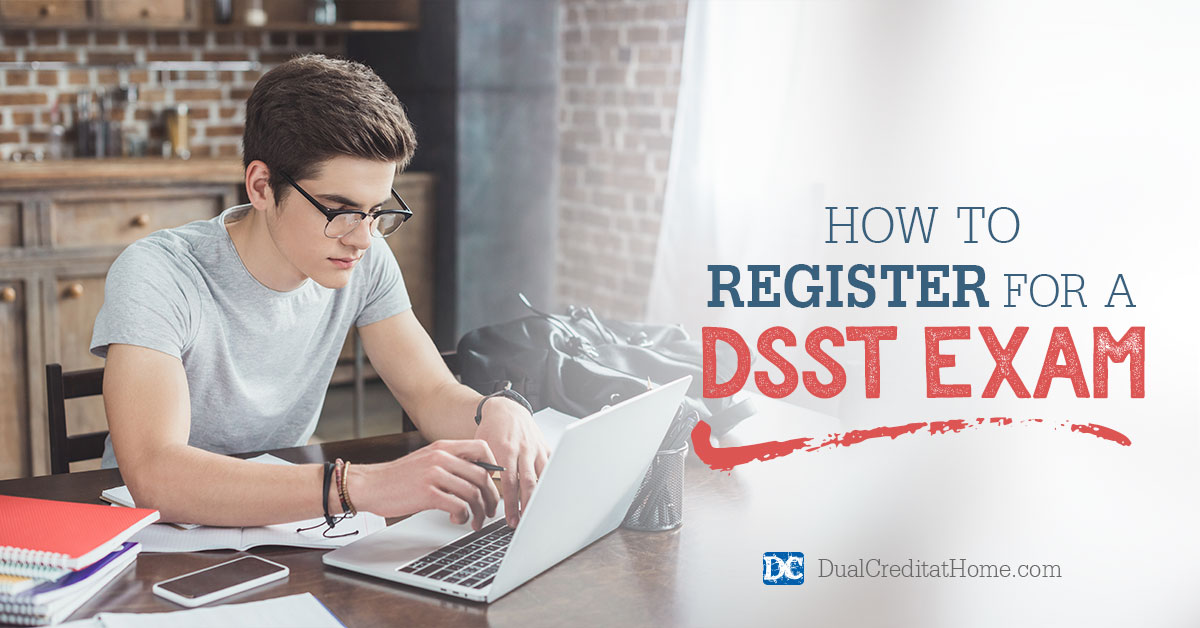 DSST offers 38 subject exams, including both lower and upper level courses in business, humanities, mathematics, physical science, social science and technology.
By passing a DSST exam, students can be awarded credit towards a university degree without needing to take a traditional course. Receiving credit accelerates the completion of a degree and reduces the costs of tuition.
The DSST exam program is overseen by Prometric.
Preparing for DSST Exams
The first step in preparing for DSST exams is to select the subject tests you would like to take.
More than 1,900 colleges and universities give credit for DSST tests. Before taking the test, review the policy of your preferred college to make sure it awards credit for DSST exams. Two of the colleges we often recommend, Thomas Edison State University and Charter Oak State College, accept DSST exams.
Keep in mind that policies vary from institution to institution about the number of credits awarded for each exam and how credits apply to your degree.
You can view the DSST website which provides information about the content of the exams, registering and receiving scores. The website includes an outline for each exam and a list of suggested study materials.
You can also download fact sheets for each exam. The sheets provide an outline of topics covered and the percentage of questions related to each topic.
Alternatively, you can purchase online practice exams to get first-hand experience with the types of questions and subject matter for each exam.
Dual Credit at Home also provides comprehensive Study Plans for the following DSST exams as part of our program:
Introduction to Geography (formerly titled: Human/Cultural Geography)
Introduction to World Religions
Principles of Public Speaking
Business Ethics & Society DSST
Want to see one of our sample Study Plans? You can get one here.
Selecting a Testing Center
When you are ready to take your exam, select a testing center. There are more than 1,200 testing centers in the U.S.
Many colleges and universities serve as testing centers. You can search for a center here.
Contact the center of your choice to register. Some centers require advance registration. Others allow walk-in candidates.
Be sure you understand the registration procedures of the center you select. You can schedule the date and time of the exam directly with the center.
The cost of a DSST exam is currently $85, plus a testing center fee.
Exam Day
As you prepare for exam day, take note of any materials or supplies required for the exam. You may bring a non-programmable calculator if it is required for your exam.
Electronic devices, including mobile phones, cameras and tablets, are not allowed. The exam center will provide scratch paper. A headset and microphone will be provided by the center for the Principles of Public Speaking exam.
You must bring a government-issued photo ID, such as a passport or driver's license.
If you have preregistered, the name on the ID and the name on the exam must match exactly.
If you use titles such as Jr. or III, these must also match. If the names do not match, you will not be allowed to take the exam.
You should reach the testing center at least 30 minutes before the scheduled exam time.
Score Reports
You can designate the institution that you would like to receive your scores by providing the college's DSST code when you take your test. Alternately, you can wait to transfer those scores and have Prometric "bank" them for you until you are ready to transfer them to your college.
There is no fee to transfer the score if you do it at exam time. There is a charge of $30 for each transcript ordered after the exam.
For more information about DSST exams, contact DSST at 1-877-471-9860, by email or through the website.
Get Becky's Weekly Newsletter on Homeschooling High School
We will never sell or share your email address.