One of the benefits of homeschooling is that teens can study from anywhere in the world.
Instead of spending each day studying in a home office or bedroom, teens can go outside and find a new, unconventional place to do their schoolwork. These ideas can help your teen break up their day-to-day routine and concentrate even better on completing their assignments.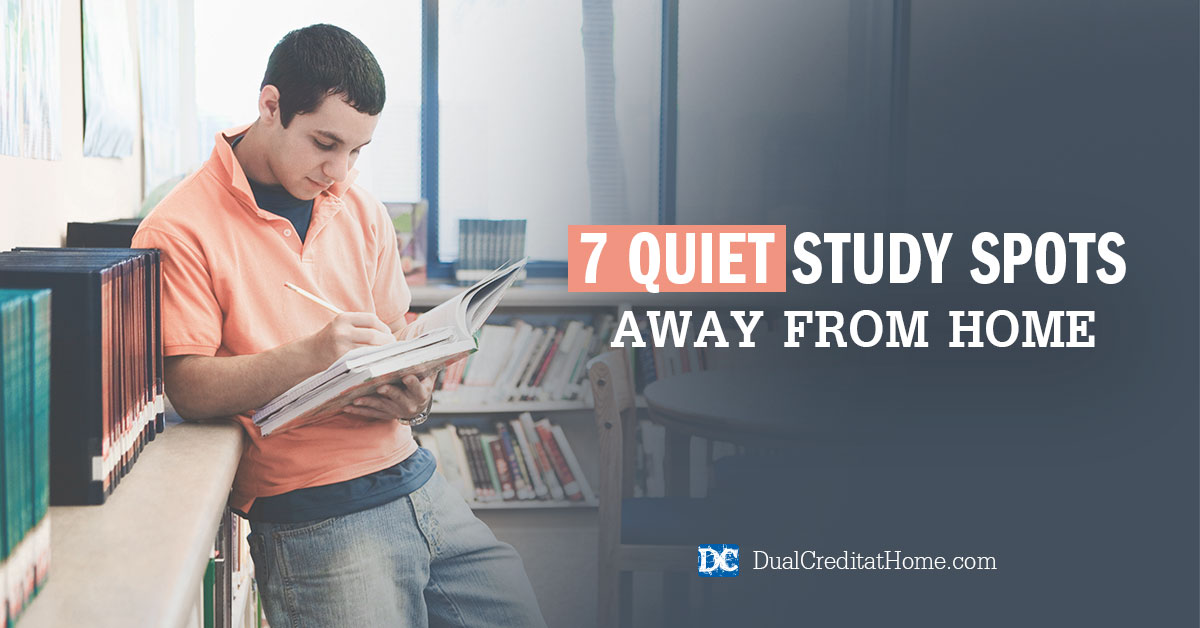 A Library
No list of study locations would be complete without a library! There are few places quieter or more convenient than your local library. Also, if your teen needs to research a topic, they are already at one of the best locations for finding research materials.
Parents, encourage your teens to not be afraid of asking the librarians for help. Librarians do far more than just put away books.
During college, future librarians take special classes to learn research techniques and how to help library patrons find the right materials. If your student is researching for dual credit classes or CLEP and DSST exams, the librarian can likely help.
On a Lakeside Deck
If you are fortunate to live near a lake, a deck can be an excellent place to study. Imagine the quiet and tranquility as the water gently laps against the deck while your teen works on their latest homeschool assignment. If there are no decks nearby, you can always go to the beach and enjoy a quiet, peaceful experience along the shoreline.
A Bookstore Cafe
Many students go to coffee shops to study, but coffee shops can be loud, hectic places for doing schoolwork. Bookstores can make for a better option, as many bookstores include a cafe inside the store for customers. Since bookstores are naturally quiet locations, the bookstore's cafe will also be fairly quiet.
At a Park
Your local park can be one of the best quiet places for your teen to study. If the weather is good, pack a picnic, head outside and enjoy the day! Particularly consider having your teen study biology and botany outside, surrounded by God's creation. The Great Outdoors helps wake up the mind and enliven the senses.
Aquariums and Zoos
Ever thought about studying at the zoo? There are many reasons why zoos and aquariums are great for studying. They offer annual family memberships and often have cafes and restaurant areas where students can sit down and focus on their studies. Besides, these destinations are great for anyone who wants to study zoology, biology, and geography.
A Community Center
Community centers and study halls at your local homeschool co-op can be excellent places for your teen to study. Many community centers and co-ops offer tutoring programs, classes and other programs that appeal to teenagers. A homeschool co-op can also provide meaningful social interaction as teens work through their coursework together.
In the Car
Homeschool students often participate in sports teams, community programs, co-ops, music lessons, and other activities. Because of their full schedules, many teens spend time in the car each day. Your teen can use this time for valuable learning opportunities. Foreign language programs are easy to listen to in the car. Audiobooks can also help teens take advantage of this extra time for schoolwork.
Get Becky's Weekly Newsletter on Homeschooling High School
We will never sell or share your email address.