---
How to Plan an Amazing Homeschool Graduation Ceremony for Your Teen
Are you homeschooling a high school senior this year? Now is the time to start planning an amazing homeschool graduation ceremony to celebrate your teen's accomplishments.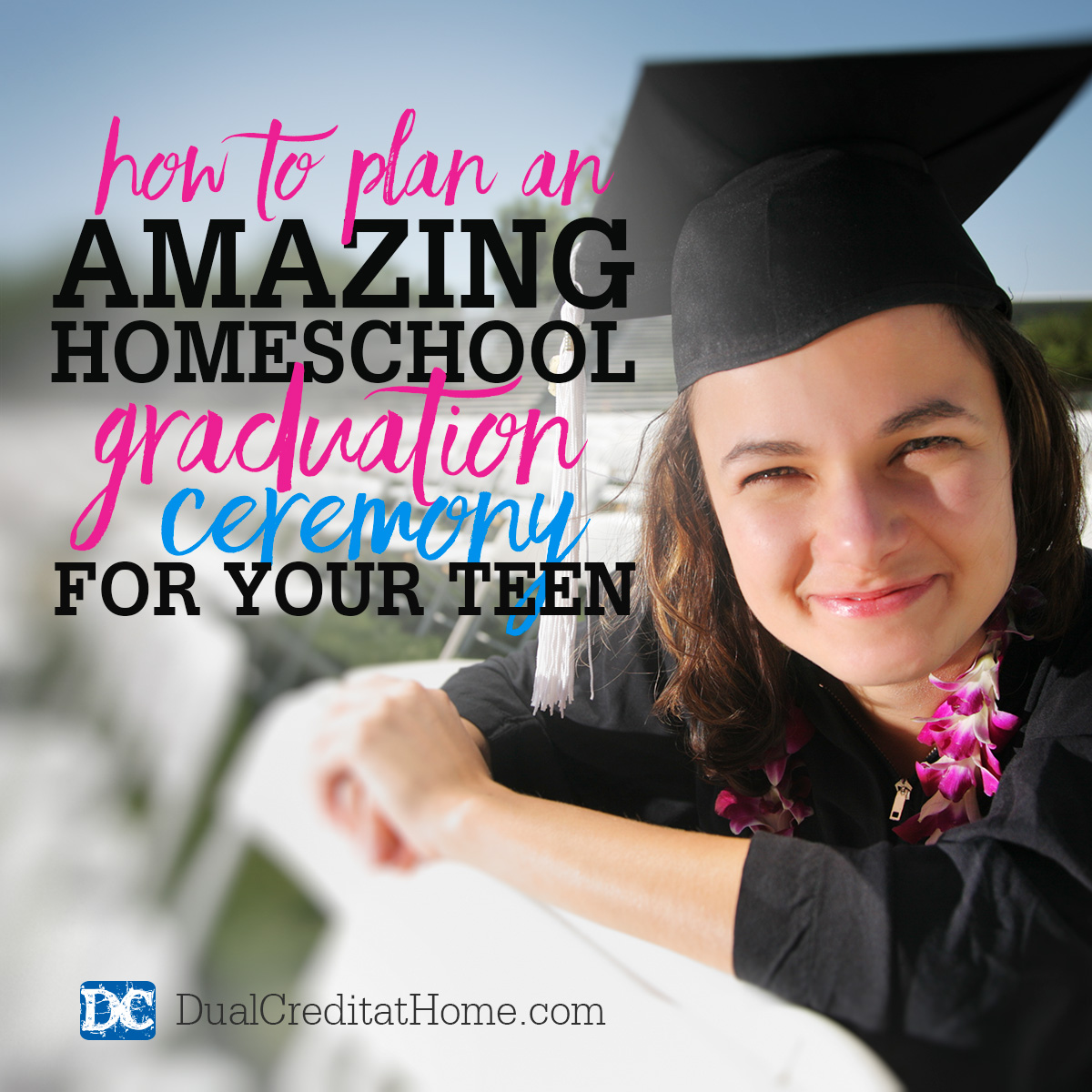 Unsure about where to begin? These tips will help you create a memorable homeschool graduation.
Setting the Date for Your Homeschool Graduation
May and June are typical graduation and wedding months, which means that your teen's graduation may be competing with other events within your family and circle of friends. Talk to your most important guests beforehand (grandparents, close friends, etc.) to determine their availability and then plan accordingly. It may be worth it to consider dates outside of those traditional two months.
Related: Get a copy of our free e-book, Homeschooling High School – The 75 Best Tips Ever!
Planning the Graduation Ceremony
Now that the date is on your calendar, it's time to take care of the details. The graduation ceremony will be the part of the day when you officially recognize your teen's high school accomplishments. Here are some tips for personalizing your homeschool graduation ceremony.
Music – Playing Pomp and Circumstance is a tradition at many graduation ceremonies. Recruit some homeschooling musician friends to play it as your teen makes his or her appearance. As an alternative, let your teen choose the music.
Cap and Gown – While this isn't a necessity, a cap and gown can be a fun way to give your homeschool graduation an official feel. You can order cap and gowns online in just about every color of the rainbow.
Diploma – You can easily create an beautiful diploma on your computer. You can learn more about diplomas in our Homeschool Diplomas: What Parents Need to Know article.
Speakers – Ask adults who have played an important role in your teen's life to say a few words. This could be co-op teachers, mentors, or your pastor. Your teen can also speak about the highlights of their homeschooling experience and plans for the future.
Planning the Graduation Reception
The reception should be a more casual affair — a time to mingle with friends and family and celebrate your teen. Take advantage of special ways to personalize your reception.
Create a slideshow of your teen's homeschooling years – You've no doubt been documenting your homeschooling journey with your child for many years. Put together a slideshow of your favorite photos and play it during the reception.
Include a memory table at your reception – A memory table can be whatever interests your teen and your family. It can include photos, awards, artwork, and writing samples. You can also put out a guest book for people to share their own memories of your teen's homeschooling years.
Enjoy your teen's favorite foods – Ask your teen to help you plan a menu based on their favorite foods and the size of your crowd. You could host an outdoor barbecue, a pizza party, or a potluck dinner.
Related: Thinking about college? Get our free dual credit e-book to learn how our family has saved over $300,000 on college degrees!
A homeschool graduation and reception is a beautiful way to celebrate your teen's accomplishments as they transition to the next stage of their education. This is sure to be a highlight of your teen's homeschool education, and a day they will never forget.