---
How to Prepare Yourself for Your Teen to Be Done with High School
Homeschooling your teenager been quite a rewarding adventure, but as your teen approaches the end of the high school years, you may start to wonder what comes next.
Your teen is entering the next phase of life, but so are you as a parent. Learn how to prepare yourself for graduation and the end of homeschooling high school.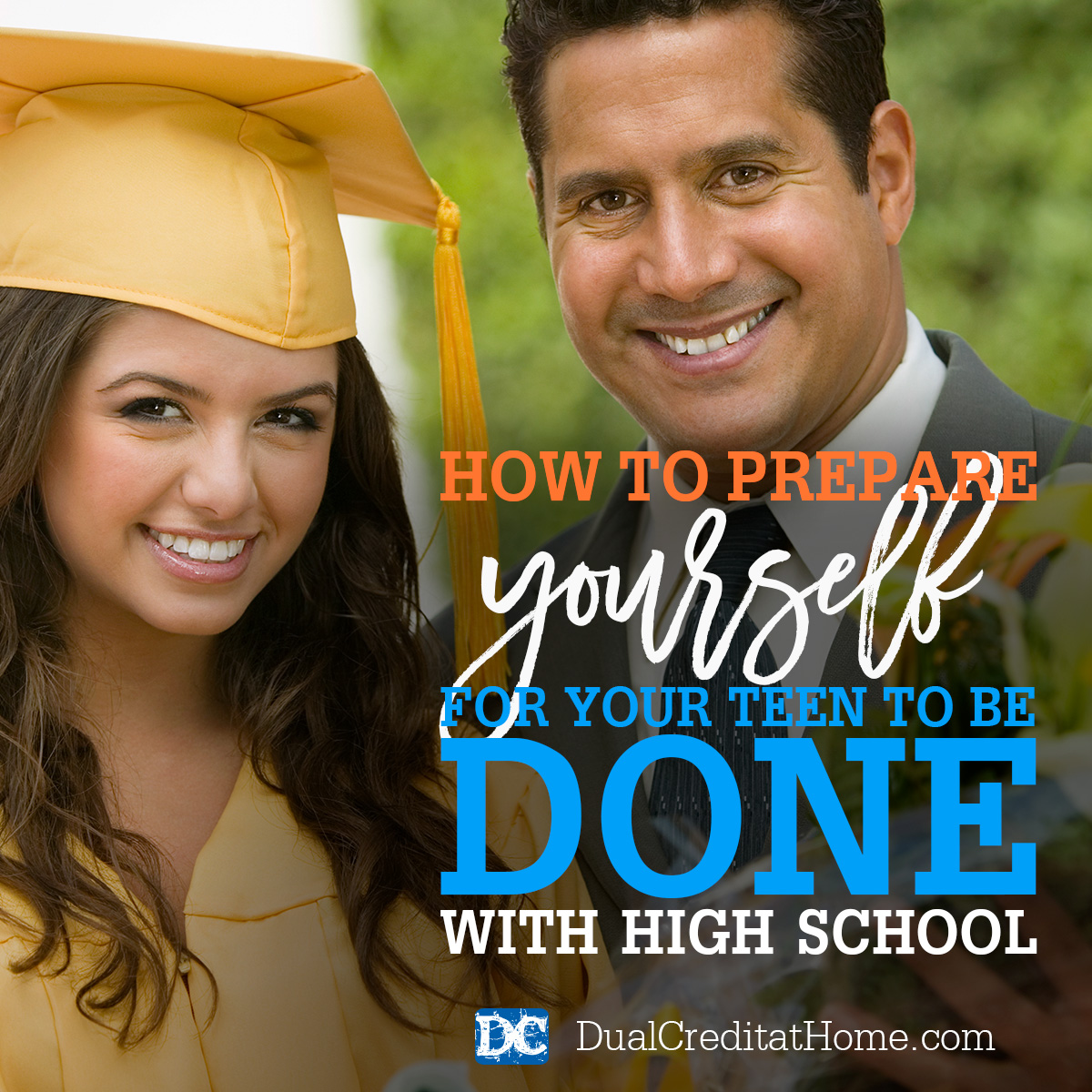 Take Time to Teach Some Life Skills
No matter what your teen decides to do after high school, now is the time to prepare them for independence. Teach your teen about budgeting and finance, how to cook simple meals, and basic car maintenance. They should also understand the real-world dangers of drugs, alcohol and sexual promiscuity. As your teen matures into a capable adult, they will become adept at caring for themselves and making good choices, but it never hurts to give them a head start.
Get Those High School Transcripts in Order
Your teen's high school transcript is the most important document they will bring to the table when applying for traditional college. If you haven't already, start collecting and documenting high school courses, test scores, extracurricular activities, and volunteer work. Dual Credit at Home has an easy high school transcript template to help you with the details.
Plan a Homeschool Graduation
Finishing high school is a huge milestone, whether you do it in a regular classroom setting or at home, like most of our readers. Celebrate your teen's achievements by planning a homeschool graduation. Invite friends and family to attend, serve a celebratory meal, and ask your teen to prepare a little speech. Finish off by presenting your teen with a homeschool diploma certifying their completion of high school.
Enjoy the Moment
Your teen's educational journey may be far from over, but finishing high school is an achievement the whole family can be excited about together. As a homeschooling parent, now is also the time to enjoy the moment. You spent countless hours planning lessons, documenting test scores, and worrying whether or not you were doing it right. Your teen's success is in part because of your dedication — congratulations!
Take Time to Reflect and Pray
Despite the joy, excitement, and love you may be feeling at this moment, you may also experience sadness and loss at the end of these high school years. You and your teen have been walking side-by-side on a beautiful journey together — a journey that began when you first laid eyes on each other. This is a moment for countless emotions, and it's important to recognize them all as you reflect on the journey you've taken, and the new one that is just beginning. It is moments like these when your strength in God will encourage you, strengthen you, and lead you.

"Blessed is the man that trusteth in the Lord, and whose hope the Lord is. For he shall be as a tree planted by the waters, and that spreadeth out her roots by the river, and shall not see when heat cometh, but her leaf shall be green; and shall not be careful in the year of drought, neither shall cease from yielding fruit." Jeremiah 17:7-8