Many traditional high schools have started community college tie-ins that allow students to earn college credit while still attending high school. But thanks to college credit exams like the DSST exams, homeschool students have the same opportunity to earn dual credit without needing to go to a traditional classroom.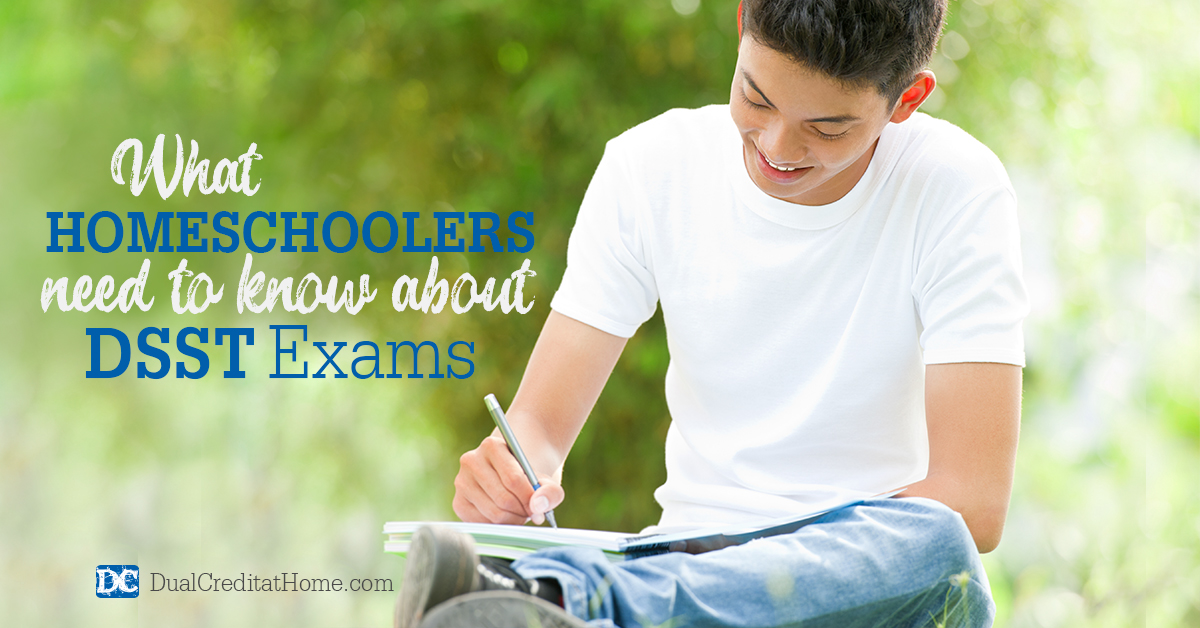 DSST Exam Overview
The Dantes Standardized Subject Tests were originally created by the Defense Activity for Nontraditional Education Support program.
The DANTES program was in charge of providing avenues for soldiers to earn college credit no matter where they were in the world. They are now open to all students. Passing scores are recognized for college credit by thousands of universities in the US.
DSST offers more than 30 Subject Exams
There are more than 30 different exams available for college credit. A passing score can award a student with a minimum of three hours of college credit.
Unlike the CLEP exams, DANTES Subject exams have both lower and upper level college credit opportunities. Available subject exams include tests in Science, Technology, Math, the Humanities, Social Science, and Business.
Studying for DSST Exams
The DSST program publishes a study guide for each exam. The study guide will provide an outline detailing the different topics that the test will cover. The exam content outline details topics in depth and provides the percentage of each topic in the exam so students can know where to focus their study efforts.
The study guide provides a list of reference materials that will be helpful in studying for the exam. These might be regular books or textbooks and they can sometimes be found in a local public library. Study guides include a list sample questions for students to see if their studies are in the right direction. There are fee-based full practice exams for some tests.
Dual Credit at Home provides students with detailed daily Study Plans for four DSST exams: Human/Cultural Geography, Introduction to World Religions, Public Speaking, and Business Ethics & Society.
Our Study Plans eliminate the guesswork by showing students what to study each day, as we walk them through the process of earning college credit at home. Want to learn more about Dual Credit at Home? Download our free dual credit e-book!
DSST Exam Scoring
Exams are scored on a scale from 200 to 500. The passing score is 400. The questions are multiple choice and test takers are not penalized for wrong answers.
Tests have changed in recent years from a reference based score to a criterion based score. These don't mean much difference to students except that they now know going into the exam that their score is not based on how well they score vs. other students but how well they know the subject.
DSST Exam Testing Locations
Originally, DANTES subject exams were paper based and only available on military bases but they later spread to university testing centers.
They are now offered through computerized testing at Prometric testing centers throughout the US. Between computerized testing centers and college testing centers, there is probably a testing center nearby. You can find a testing center near you at www.getcollegecredit.com.
DSST Exam Cost
Exams cost $80, but individual testing centers can charge a sitting fee. These vary by testing center so it's a smart idea to call multiple testing centers to check what the fees are.
It's not unusual for the testing center fees to vary as some college testing centers charge little to no sitting fee while others charge a hefty fee.
The Homeschool Advantage
These exams are a particularly good option for homeschool students looking for dual credit.
Parents can easily integrate the Dual Credit at Home Study Plans into their homeschool schedule, especially as students may already be learning these subjects on a high-school level. Once a student is ready to test, parents can easily schedule the exam at their preferred testing center.
DSST exams not only provide verifiable proof of subject mastery, but they also provide college credit. Students have a leg up before they even start college.
Another great advantage for teen students is that the exams offer upper and lower level credit. Teens can choose to study for upper level credit in subjects that interest them. These exams require deeper thought and study, but they are particularly useful in preparing students for college work and earning even larger amounts of college credit at a young age.
Get Becky's Weekly Newsletter on Homeschooling High School
We will never sell or share your email address.