For many students just beginning Dual Credit at Home, their first CLEP exam can seem the hardest.
Everything is new and different, and they even have to GO somewhere to take the test!
But, once a teen walks out of a testing center with three college credits under their belt, they have way more confidence about the next exam.
Besides studying, registering for the CLEP exam is the next biggest step towards those first three credits. We've compiled these steps for registering for a CLEP exam to help people know as much as possible to help answer some of unknowns.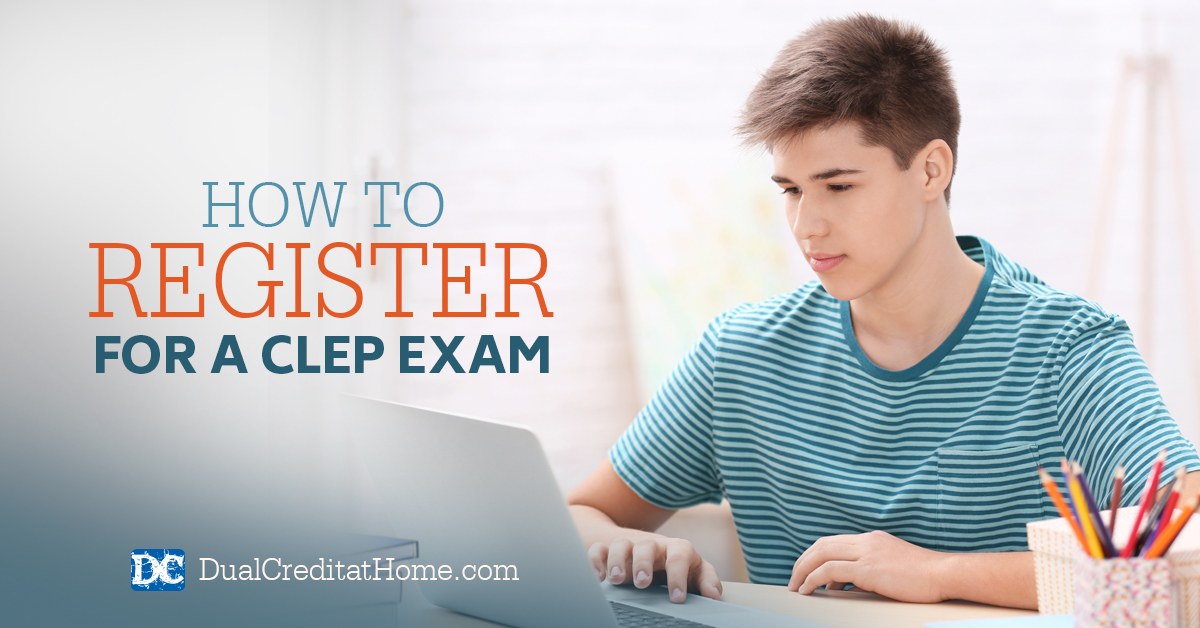 The typical Dual Credit at Home student starts with CLEP exams and then also begins taking DSST exams.
CLEP, the College-Level Examination Program, gives students the opportunity to earn college credit in 33 subjects including mathematics, business, science, English, foreign languages, social sciences and humanities.
High school students, members of the military, adult learners with full-time jobs and college students can pass CLEP tests to earn credits without having to attend classes for these subjects.
Exams cost dramatically less than tuition for most college courses, so this makes earning credit during high school especially beneficial.
Here's how to get registered for your first CLEP exam:
Step One – Check to Make Sure Your CLEP Exam Credits will Apply to your Degree
The CLEP website includes a portal that lets you search for institutions that accept CLEP credits.
If you plan on attending a specific college, or are already attending one, you can check to see if the institution awards CLEP credits.
You should also visit the college's website or call the registrar's office to understand their full policy on CLEP.
Step Two – Register With College Board
Registration for a CLEP exam is simple and straightforward. You must first set up a free account with College Board, the administrative body overseeing the CLEP program.
Through this account, you create and manage your profile, register and pay for exams and view your scores. If you have taken an exam through College Board, such as AP or SAT, you may already have an account.
If you are creating a new account, you must register under your full legal name. Parents of high school students, this needs to be your teen's name.
This name will be on all the CLEP exams and must match the personal identification information, such as a driver's license, student ID, or passport. If there is a discrepancy between the name on the exam and your ID, you will not be allowed to take the exam.
Step Three – Select Exams
Next, select the CLEP exam you would like to take by browsing through the listing of exams offered.
There are five general categories. Individual exams are listed under these categories. An overview of the topics covered is provided for each exam, including a breakdown of the percentage of exam questions for each topic.
Select the exam you want to take by clicking on the box next to the title. Take time to verify that you have selected the correct exam.
You can purchase a single study guide that includes practice questions for all exams. If you want to order study materials, select these as well.
Dual Credit at Home also provides comprehensive Study Plans for the following CLEP exams:
U.S. History I and II CLEP
Analyzing & Interpreting Literature CLEP
American Government CLEP
Social Sciences & History CLEP
Humanities CLEP
College Composition CLEP
College Mathematics CLEP
Natural Sciences CLEP
Want to see one of our sample Study Plans? You can get one here.
Next, add the exam and other materials to your shopping cart.
Login into your College Board account and review your cart. Proceed through the prompts to complete your order.
Step Four – Choose a Testing Center
You may designate a testing center on the registration form. Official CLEP testing centers are located all over the world in universities, community colleges, high schools, independent testing centers and military installations. You will schedule the date and time for taking the exam with the testing center.
Step Five – Completing Checkout
If you are having materials shipped, complete the shipping information section.
Otherwise, continue to the section that designates an institution to receive your scores. If you specify an institution when you register or before you take the exam, there is no charge to send a score report. Most high school students do not choose a college at this time; they simply let College Board hold their scores until later when they enroll in a college.
Later, after college enrollment, you can request that College Board send your test transcript to our college. There is a small fee (currently approximately $20) for the transcript to be sent.
We recommend that high school students wait to send their scores to a university until they are ready to enroll, saving money on tuition.
Scores can be banked with College Board for up to 20 years.
The fee for each exam is $89. If you are eligible for waivers, fill in the appropriate sections during checkout. The adjusted amount due will be shown. You can pay by American Express, Discover, MasterCard or Visa credit card.
After payment, a registration ticket will appear on the screen. A copy will also be emailed to you.
You should take this ticket with you on test day. Registration tickets are valid for six months. If you decide not to take an exam, you can request a refund within seven days of registration.
For more information about CLEP exams, contact College Board by email at clep@info.collegeboard.org or phone at 800-257-9558.
BONUS RESOURCE:
Get our
free dual credit e-book
to learn how our family used CLEP exams to save over $300,000 on college degrees!
Get Becky's Weekly Newsletter on Homeschooling High School
We will never sell or share your email address.