The U.S. History II CLEP exam picks up where the U.S. History I CLEP leaves off. The exam covers U.S. history from the end of the Civil War to the present day. Most of the questions are from the twentieth century.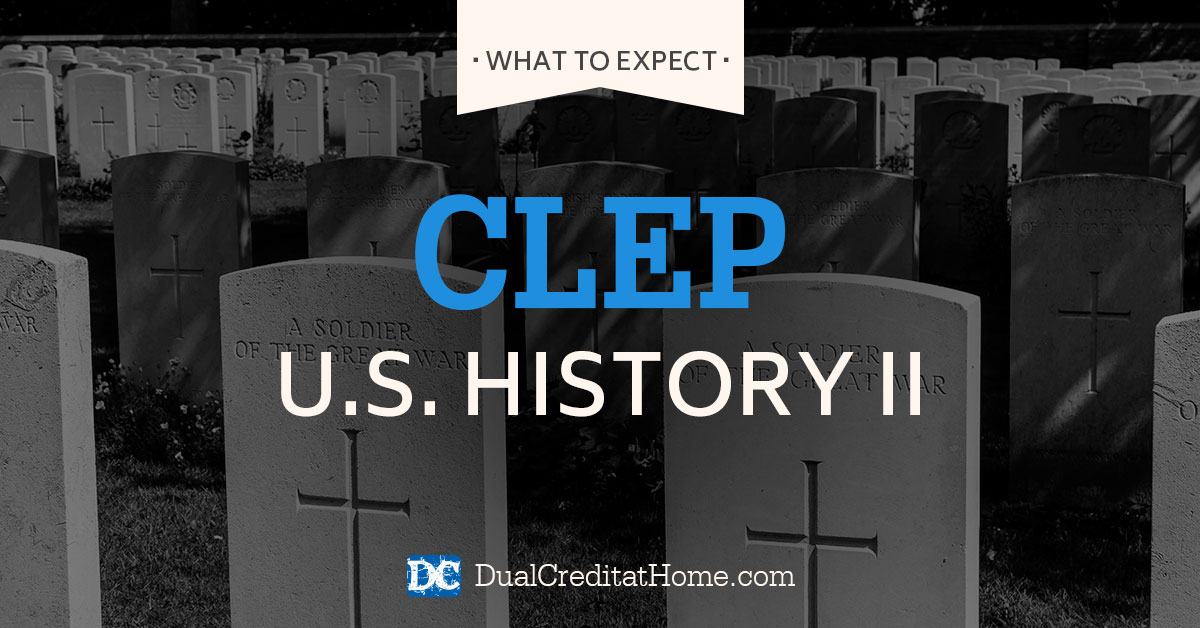 CLEP (College Level Examination Program) exams are a cost-effective way for students, especially homeschool teens to earn college credit without having attend a traditional college class.
Students who have a strong grasp on history from this era can bypass an expensive college course and take the CLEP exam instead for credit.
The highest possible score is 80, but a "passing" grade for credit is set by specific institutions. Before you take the test, contact your preferred college to determine whether you need a 50, 60 or another score.
Before taking the exam, always check with your preferred college to learn about their CLEP policies. Some colleges are more lenient than others, but a huge majority of U.S. colleges and universities allow a wide range of CLEP exam credit to prospective undergraduates.
What's the U.S. History II CLEP Exam Like?
For a closer look at the specific content on the U.S. History II CLEP, the College Board (administrator of the CLEP tests) offers a comprehensive description of the exam at their site.
The unofficial title of the test is "History of the United States II: 1865 to the Present."
The specific years covered on the exam are from 1856 to present-day in the United States. While there were non-European colonies in early U.S. history, the CLEP exam for this subject emphasizes European settlers and colonists.
You will be allowed 90 minutes to answer 120 questions, plus you'll be asked for basic identification data like name, address, etc.
Topics Covered in the U.S. History II CLEP Exam
– The impact of the Civil War and Reconstruction upon the South
– The motivations and character of American expansionism
– The content of constitutional amendments and their interpretations by the Supreme Court
– The changing nature of agricultural life
– The development of American political parties
– The emergence of regulatory and welfare-state legislation
– The intellectual and political expressions of liberalism, conservatism, and other such movements
– Long-term demographic trends
– The process of economic growth and development
– The changing occupational structure, nature of work, and labor organization
– Immigration and the history of racial and ethnic minorities
– Urbanization and industrialization
– The causes and impacts of major wars in American history
– Major movements and individual figures in the history of American arts and letters
– Trends in the history of women and the family
(source: College Board)
U.S. History II CLEP Exam Study Tips for Success
Keep in mind that history exams like U.S. History II tend to be quite specific about dates, names and other related facts.
Take advantage of these time-tested tips for success, whether you are a homeschool student or looking forward to high school graduation in the near future:
Schedule an exam date and make a written study plan as soon as possible.
You will benefit from a firm goal and a realistic way of achieving it. A written study schedule also allows you to break up your study into manageable chunks.
For those who don't want to create their own plan, Dual Credit at Home provides written Study Plans that will walk you through this U.S. History II exam. We've eliminated all the guesswork of what to study and how to study, so in just five weeks, you can be ready to pass the exam!
Use a study partner.
Recruit someone to help you review your notes and to keep you on your schedule.
Dual Credit at Home students receive complimentary access to our private Facebook group. You'll benefit from the community's ideas, encouragement, tips, and resources.
Use comprehensive materials to prepare.
Take advantage of the resources that College Board offers on their website. This will help ensure that you don't waste time on extraneous facts and concepts. Pay close attention to the specific testing topics they have outlined. The College Board also recommends study helps and resources.
If you use the Dual Credit at Home Study Plan for U.S. History II, we'll provide you with a book list, plus give you recommendations for practice tests.
Study every day and don't cram the night before!
Make your study time a priority and resist the urge to cram. Consistent study is key.
BONUS RESOURCE:
Get our
free dual credit e-book
to learn how our family used CLEP exams to save over $300,000 on college degrees!
How to Take the U.S. History II Exam
Scheduling: You can register and submit payment for your exam on the CLEP website. Need additional help registering for the exam? Our how to register for a CLEP exam guide will help you get started.
Costs: The cost of the U.S. History II exam is $87. Your local testing center might also charge you a fee, typically $25. If you are in the military, testing is free.
ACE recommended scores: The raw exam scores are converted into scaled numerical scores between 20 and 80. You will receive your score immediately after taking the exam. Many colleges, including the one we recommend Charter Oak State College, require a passing score of 50, but always confirm that in advance.
Semester Hours: Many colleges will award you 3 lower-level college credit hours, but check with your preferred college for detailed information about credit hours.
For more information about how to schedule an exam, costs, recommended scores and related facts, visit the College Board's CLEP-specific website at the following links:
CLEP US History II Test
Testing Centers
Earn College Credit
Final Thoughts for Optimal Performance
A realistic study plan, practice tests, and hard work are critical ingredients for passing the U.S. History II CLEP exam.
Dual Credit at Home will give you a complete Study Plan package for taking not just the US History II CLEP exam, but 12 more CLEP & DSST exams that can earn you up to 51 college credits.
To learn how Dual Credit at Home is helping students save time and money on college, download our free e-book, The Dual Credit Secret.
Get Becky's Weekly Newsletter on Homeschooling High School
We will never sell or share your email address.