Is your teen taking CLEP exams during high school for college credit? While they are doing most of the work, we parents also have a critical role in the process. Discover six ways that parents can support their teens who are taking CLEP exams.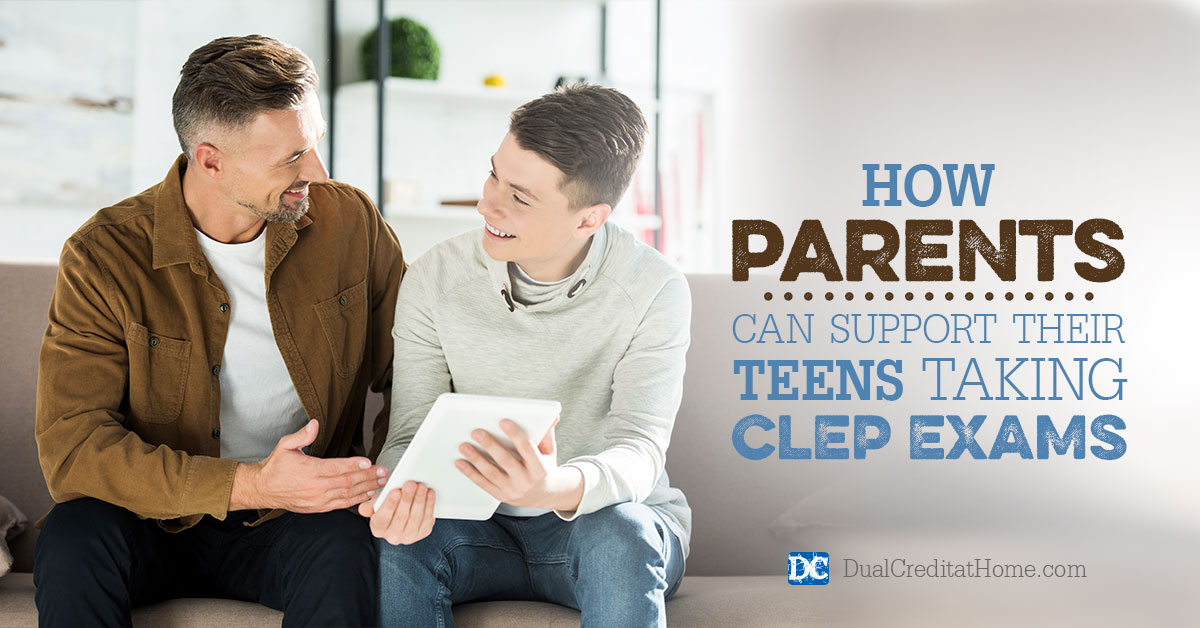 Provide Study Materials
Test outlines are available for each CLEP exam and these can provide essential structure for your teen's studying efforts.
There are also numerous studying materials available, including our Dual Credit at Home Study Plans. You can also help your teen locate flashcards, apps and online tutorials.
Depending on your teen's familiarity with the subject matter, it is reasonable to spend several weeks or even months preparing for a CLEP exam.
Create a Suitable Studying Environment
Many students require a quiet environment that is free of distractions to study. More than that, they may need to study regularly throughout the week for a lengthy period of time to prepare for the exam.
Adjust your home environment and family's schedule as needed so that your teen has suitable conditions for studying on a regular basis.
Assist with Practice Exams
Practice exams can be taken periodically to assess your teen's knowledge of the material and to frame your student's studying efforts going forward.
CLEP exams are timed, so parents can monitor timed practice tests to prepare teens for a realistic test-taking experience.
Some exams also have an essay component. These are hand-graded, so your teen cannot receive an actual passing or failing grade with a practice exam. However, parents can review practice essays and provide essential feedback.
Hire a Tutor
CLEP exams are designed to give college credit for a student's existing knowledge in a specific area. Most commonly, students prepare for these exams on their own, but this is not the only option. Depending on your student's needs and learning style, it may be helpful to hire a tutor to work with your child for at least a few weeks leading up to the exam date.
Monitor the Exam Registration Process
Parental involvement in the CLEP exam registration process is at your discretion. Based on your teen's level of responsibility, ensure that the exam registration process has been completed.
Mark your calendar to avoid missing the exam date and to monitor your teen's studying efforts leading up to the exam date. The evening before the exam, ensure that your teen goes to bed at a reasonable hour and is well-rested for the exam.
Be Your Teen's Biggest Supporter
Your teen is making huge strides toward maturity and adulthood. Although academics matter, your relationship with your teen matters much more. Invest in their studies—-and invest in your relationship with your teen. Let them know that mom and dad care about them, not just their grades.
Get Becky's Weekly Newsletter on Homeschooling High School
We will never sell or share your email address.