Even though we're homeschoolers, many of the battles we face and hurdles we jump are the same as those everyone else is up against. We all have tests we get nervous about and struggle to get out of the holiday blues and back into the routine come January. How we get out of those blues, however, may look slightly different.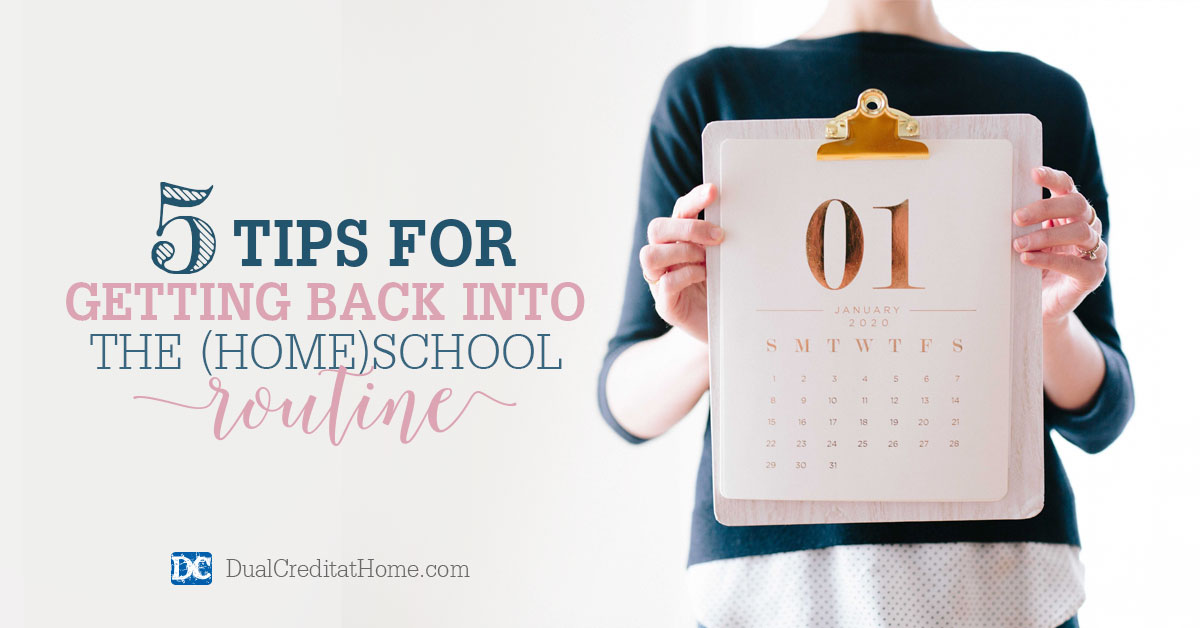 1. Set an Alarm
I don't know about you, but one of my very favorite parts of Christmas is sleeping in! (And cookies.) I totally can get used to staying up late, playing board games or watching Christmas movies with my family, then sleeping in…later than I should. Couple the laziness with a few batches of Christmas cookies, and I've got my work cut out for me on my New Year's diet and exercise plans!
Even though we homeschool and we can start school "whenever", getting a good start on the day is essential for finding that school routine after a holiday break. Start the New Year on the right foot and get back into a routine by setting a reasonable alarm for weekday mornings, and find accomplishment in starting your days on time again. All that extra sleep isn't special if you're doing it every day, anyway! And, if you also have a Christmas cookie habit like mine, maybe buy some veggies, too.
2. Reassess Your Progress
Going into the spring semester, this is the perfect time to reassess your progress on your school goals—for the semester, year, and full picture! Look at where you want to be at this summer, and make sure you're on track to get there. Now's also a great time to look at your goals for high school graduation, college credits, CLEP exams, and everything else! Not only does this reassessment give you a good idea of where you are going forward, but it also re-motivates the process of getting there!
3. Create a Schedule
Building on your progress assessment, you can now create a schedule or edit an old one to track where you are and measurable goals for yourself going forward. If you have a lot going on this semester, you may find that you need a daily schedule, keeping everything outlined so nothing gets missed. Last spring was my last semester of college work, and I earned 27 college credits in just that one semester! The only way it worked was because I had every day meticulously outlined for exactly what I had to accomplish and what deadlines were approaching.
If you don't have too much going on, though, you may find a weekly or bi-weekly schedule works fine! Make sure to include target dates for tests, renewal dates for any study site subscriptions, and time slots for exercising and personal hobbies!
4. Find an Accountability Partner
Now that you know where you are and you've got a schedule, it's time to find someone who will hold you accountable to your goals. This may be a parent, sibling, friend, neighbor—anyone who will be loyal to you and wants you to succeed, even if the steps to getting there are sometimes uncomfortable.
When I had CLEPs to take, my mom was my accountability partner. If I mentioned that I wanted to take an exam before the end of the month or before a trip, she would ask me about it every day (sometimes multiple times a day!), how my progress was going and if I could be ready for the exam by my goal date. Even if I wanted to forget about the goal I had set for myself and give it up, my accountability partner wouldn't let me!
5. Reward Yourself for Wins
Now that you're waking up on time and getting after your goals (with maybe a little nudging from an accountability partner), reward yourself for your wins. When you do get that CLEP exam taken on schedule, buy yourself an ice cream! When you do finish the school year by mid-May and you don't have to finish up the school year all summer, take a camping trip!
2020 has great things in store! Go get back into routine and find all the great things waiting for you!
Get Becky's Weekly Newsletter on Homeschooling High School
We will never sell or share your email address.