The fun thing about podcasts is that you can learn a lot, ABOUT a lot, in a fairly short amount of time. Listening to a podcast turns working out, doing dishes, or riding in the car into an opportunity to expand your thinking, laugh out loud, or come up with your next world-changing invention.
We've included a wide variety of favorite podcasts below that we think teens will enjoy. In fact, brains just might be blown.
This list is by no means exhaustive, so if you have a favorite that we didn't include, let us know–we'd love to listen in!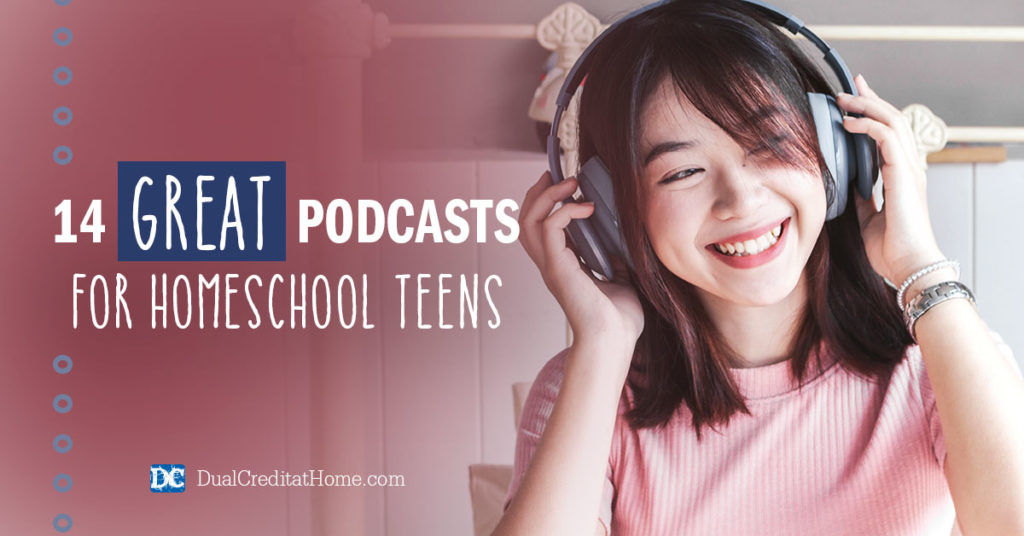 **Note: These podcasts are not all recorded from a Christian perspective. These recommended resources are meant to help parents and teens facilitate discussions and discern truth.
One year. Every day. 365 days through the Bible in community with tens of thousands of others around the globe following the same quest. Broadcast daily from the rolling hills of Tennessee, Nashville based record producer, and author Brian Hardin is your guide on the adventure of a lifetime. 
In this daily audio podcast, Southern Seminary President R. Albert Mohler Jr. offers an analysis of news and events from a Christian worldview. 
A quick, daily dose of advice on life and money in under ten minutes. Hear from experts like Dave Ramsey, Ken Coleman, Rachel Cruze, Chris Hogan, Anthony ONeal and Dr. John Delony. Delivered to you five days a week from The Ramsey Network.
The World and Everything In It
The World and Everything in It is an Apple Podcasts top 100 News program delivering essential headlines, field reporting, interviews, and expert analysis every weekday. Hear original coverage such as a weekly overview of every Supreme Court case, biblical cultural analysis, and key international stories.
Our videos are actually animated versions of much larger conversations that have been distilled into the most salient points. In BibleProject podcast, Tim and Jon invite you into their dialogue concerning the biblical theology behind each video.
Stuff You Missed in History Class
Join Holly and Tracy as they bring you the greatest and strangest Stuff You Missed In History Class in this podcast by iHeartRadio.
Pray the Word with David Platt
Short, daily meditations on God's Word that not only drive us to pray, but drive how we pray. Featuring teacher, author, and pastor David Platt.
This weekly podcast provides an informal and informative look at church history. Join us each week as we take a brief break from the present to go exploring the past. Travel back in time as we look at the people, events, and even the places that have shaped the story of Christianity. Each episode offers an easily digestible glimpse of how the eternal, unchangeable God has worked in the church over prior generations and how this can encourage us today. This is our story—our family history.
Unique stories from the Kingdom of God, told by the people Compelled to live for Him. We relish in our freedom as ambassadors of Christ to share stories of God's people carrying out His mission in our world. The common thread uniting all of our podcast guests? They live for the One who died for them.
This podcast is all about guiding you to discover, declare, and take action on the big ambitions you have for your life. Each month we'll focus on one of the foundational principles of the Dream Big Framework. Every episode you'll be hearing from one of Bob's friends, who's been learning how to chase their big ambitions, despite the bumps and turns life can throw at all of us.
In this podcast, we will be diving deep into all aspects of engineering. From discussing which major is best for you, to interviewing industry leaders, we will keep you informed about all the important topics in the field. This podcast is also for those who know engineering is the field you desire to enter and listening to this podcast will help keep you informed and prepare you to achieve your future goal of becoming an engineer.
Discover a Christianity that actually works. These powerful sermons delivered by Pastor Eric Ludy will awaken you to the majesty of true Christianity. God designed Christianity not to be mere theory but a life empowered by His grace, built unshakable upon truth, centered upon Jesus Christ, and poured out for His glory. It is more than academic head-knowledge, it is practical living grounded in the Word of God. These sermons are delivered with soul-stirring passion that will ignite your spiritual fire.
Inspiring women of all ages to pursue Christ-centered femininity, bestselling author Leslie Ludy speaks straightforwardly, giving biblical and practical advice on how to live as a godly woman amidst a self-seeking and shallow culture. With episodes on purity, purpose, devotional living, true beauty, Bible study, mentoring, leadership, friendships, romantic relationships, marriage, and family, this soul-stirring podcast will encourage you to surrender your life to the one true King and find true fulfillment and purpose in Him!
We're on a mission to bring traditional virtues to modern kids! Young hearts and minds are formed by the stories they are told which is why each original episode will highlight a traditional virtue such as courage, honor, grace, and beauty. These captivating stories & songs will sweep your kids into new and exciting worlds! Encouraging, hilarious, thought-provoking and uplifting – Lamplighter Podcast lights the way to your imagination! Simple discussion questions are asked at the end of each episode to help kids and adults further explore the virtues presented in the story!
Get Becky's Weekly Newsletter on Homeschooling High School
We will never sell or share your email address.