"Mom… what do you think about my taking a Gap Year?"
Step 1: Panic 
Your throat goes dry.
A Gap Year? What about finishing school?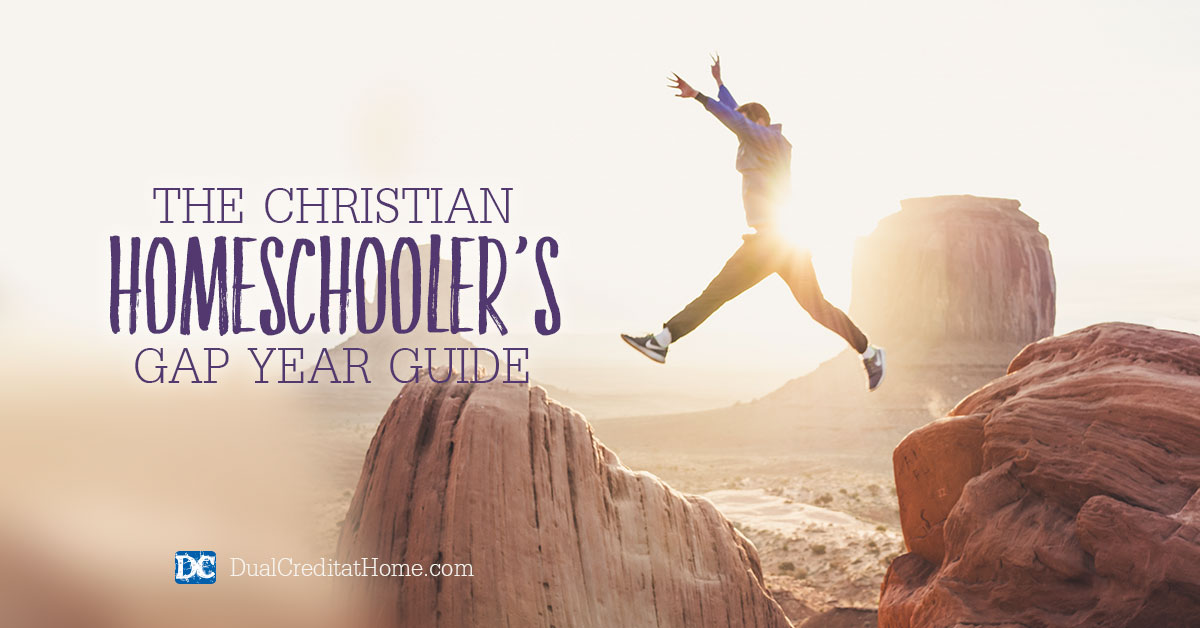 You know your student is brilliant. You've done everything to help them get ahead—AP classes, tutoring, strong ACT/SAT scores, scholarship essays, Dual Credit at Home… the list seems endless. 
Homeschooling, from the beginning, was all about giving them the best education you possibly could. You've dedicated years and years of your own life to help propel them into the bright future waiting ahead for them. And, you've done an amazing job. 
But now what? They want a break? Right here at the end?! (They're so close!)
What if? What if they decide to never finish? What if they take this Gap Year, and just quit on their education altogether? 
Mom, if this is you, and this is where your thoughts spiral when you hear 'Gap Year', I understand. What you may not realize is that your student understands, too. 
The truth is, especially after a long homeschooling career and dual credit and all the bells and whistles of an amazing education, your student is probably even a little nervous to broach the subject of a Gap Year. Yes, they love you and they appreciate the education you have helped them achieve! They're just thinking about a break. 
This is okay. 
Step 2: See the Positive Potential 
Just look at my story.
I, myself, didn't want to take a Gap Year. I had all the plans of an overachieving, homeschool group co-president senior, and I really had no interest in giving up the momentum I had earned through dual credit (not to mention scholarship earnings) on a Gap Year. 
When I was wait-listed at my first choice college, what do you think I did?  
Well, first I cried. 
But then, I started applying to every other school on my list like a madwoman. I did not want a Gap Year. 
Yet, I took two. That's right, after all the scholarships and dual credit and hard work to get ahead, ahead, ahead… I took two years off. Two Gap Years. 
This is also okay. 
Psalm 46:10 says, "Be still, and know that I am God: I will be exalted among the heathen, I will be exalted in the earth."
Psalm 27:14 says, "Wait on the Lord: be of good courage, and he shall strengthen thine heart: wait, I say, on the Lord."
Both of these passages were ones that I turned to many times during my two Gap Years. While I was all gung-ho to go to college, get the degree, cure cancer, and many other textbook 18-year-old aspirations, I found myself doing a lot waiting. 
If you are worried your student needs to go, go, go, there's nothing wrong with that dream. But sometimes in our push, God wants our stillness. Sometimes in our going, God asks us to wait. 
Psalm 37:3-5 is also an excellent passage on trust, "Trust in the Lord, and do good; so shalt thou dwell in the land, and verily thou shalt be fed. Delight thyself also in the Lord: and he shall give thee the desires of thine heart. Commit thy way unto the Lord; trust also in him; and he shall bring it to pass."
If you're still just not sure, pray. God is so good to us and He will be able to calm your heart when no one else—and certainly no blog writer—can! 
Step 3: Figure Out What a Gap Year Should (and Shouldn't) Be
While there isn't a cut-and-paste template for your Gap Year planning, I may be able to point you in the right direction. Let's start with the common misconceptions, or myths if you will, floating around about Gap Years. 
Myth #1: You don't have to study or learn anything during a Gap Year. 
Truth: During a Gap Year, there are less limitations as to what things you should be learning, thus rendering them the ideal learning situation. You should read a lot of books: English classics, the Bible, good non-fiction literature about history and politics. Learn skills—both for work and pleasure. Learn how to repair the leaky kitchen sink, run long distances, and bake homemade bread. Listen to podcasts that add to your knowledge on important topics. Take music lessons or hire a tutor to help you in your foreign language. Never stop learning—especially during a Gap Year. (2 Timothy 2:15)
Myth #2: 'Gap Year' is just a term made up by Millennials to justify leeching off society, family, or friends. 
Truth: Most students who take a Gap Year do work! That said, work can look a little different for everyone. For some, work may be just your average food service or retail job. For others, work may be teaching English 50 hours a week in rural Taiwan or remotely interning with the largest grassroots organization in America. Without those jobs I worked, I wouldn't have been able to save up the money I needed to finish my degree! In that way, my Gap Year(s) really served me in giving me extra time to work and save. (2 Thessalonians 3:10-11)
Myth #3: Gap Years are all about playing video games and napping. 
Truth: A Gap Year gives you no excuses to not grow—especially spiritually. While I don't believe there's a one-size-fits-all Christian walk, growth is distinguishable. With less time spent on academics, a student on a Gap Year should be able to find time for Bible study, prayer, scripture memorization, and even ministry. (Colossians 3:16)
Myth #4: Gap Years are a recipe for credit card issues and debt. 
Truth: While the temptation to spend part of your year gallivanting across Europe on a pocketful of credit cards is strong (trust me, I feel this one personally), debt is never the key to happiness. That said, a Gap Year is still an optimal time to try new things, big and small, within your means. For me this looked like mission trips to Asia, hiring myself out as a freelance copyeditor to budding fiction authors, and selling hand-knit scarves. Try to find some new experiences that will somehow translate as skills or experiences on your resume in the future! (Proverbs 4:7)
Myth #5: You can do whatever you want during a Gap Year. 
Truth: This is a different season of life, not a break from life. While education is a great tool used in preparing for the future, neither education nor preparing for the future should be ignored during a Gap Year. Know your trajectory; know what your short-term and long-term goals are, and the steps required to reach them. This will not only help lots with answering your grandma when she asks you (again) what you're doing with your life, but it will also help you stay focused and keep your priorities straight during and after the break. If your plan is to get back into school, have your course plan ironed out. If your dream is to be a published writer, get writing. If you're going to be a pilot, get started on ground school. (Ecclesiastes 12:13)
Step 4: Trust God's Plan
As you've realized by now, this is not your average Google-seach Gap Year Guide. While I don't think some "soul-searching" and "self-discovery" is inherently bad for teenagers and young adults, the Christian Homeschooler should realize that just like the rest of life, a Gap Year is also about glorifying God and serving others. The important things in life don't get the back seat just because academics are paused—in fact, priorities with God, family, ministry, and valuable learning should all be elevated during this time. 
With more elective time on our hands than probably ever before, a Gap Year should be carefully guarded, that we don't "eat the bread of idleness" (Proverbs 31:27), but not feared. 
Thanks to Dual Credit at Home, and more alternative credits I was able to earn when I got back into academics, the cool news is that I actually graduated college "on time" just four years later at 22 years old. Even with my two Gap Years out of high school. And, thanks to the money I was able to save up during those two years of missions and working, I was able to pay for my degree in cash! 
Sometimes God directs us to go. Sometimes God directs us to wait. Sometimes a Gap Year happens. If it does, pray, look at the opportunities, make good plans—but most importantly, trust His.
Get Becky's Weekly Newsletter on Homeschooling High School
We will never sell or share your email address.