As a homeschool parent, you know how challenging it can be to get teens away from the TV, tablet, and phone screens. If you are looking for some ideas that support your homeschool teaching plans and values, these are a few suggestions that your teen may find surprisingly rewarding.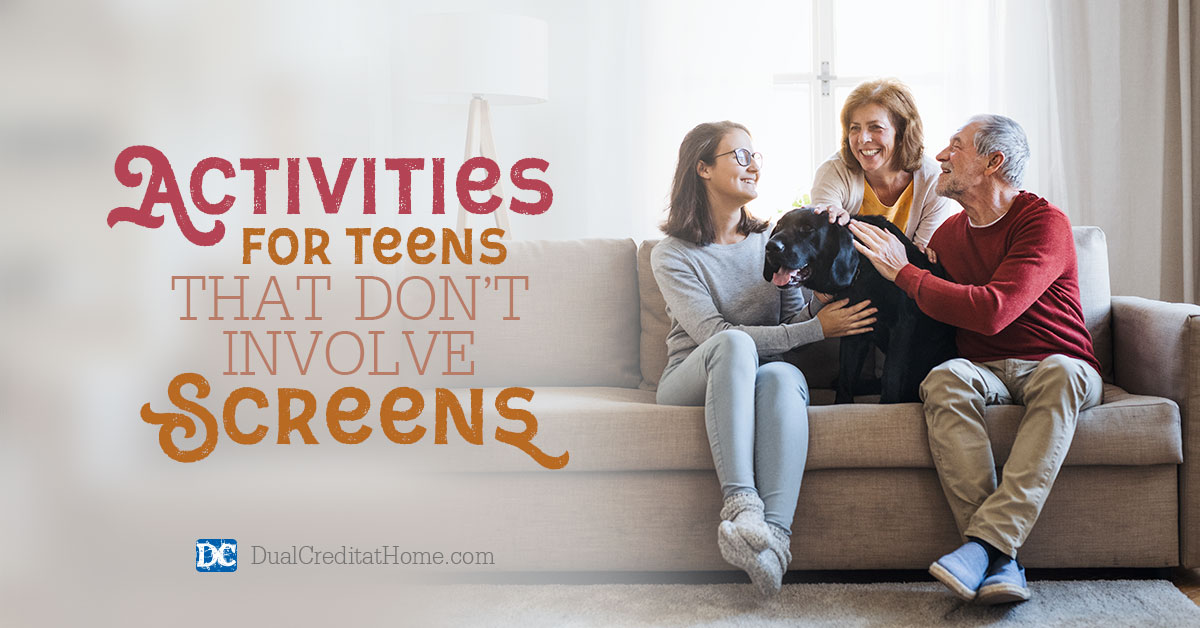 Chef for a Day
One way to help your teen develop life skills is to let them be the home chef for a day. Let your teen choose a favorite meal to shop for and prepare, find a new recipe, or choose a family favorite, and then be the boss in the kitchen. You can help if needed, and chances are if you're an encourager in the kitchen (and perhaps do some of the dishwashing while they cook), they might even enjoy having you nearby.
Elder Outreach
Another excellent value to teach your teen is caring for elders. Since many nursing homes limit in-person visits these days during COVID-19, one way to make a person's day brighter is to call a nursing home to see if there are any residents who may appreciate a phone call or a letter. Sometimes friends or co-workers have an elderly family member that they can suggest your teen contact. Work together with your teen to construct a thoughtful list of questions or topics for conversation. If you have younger kids, they could make drawings to send along as well. You may even be so fortunate to have your own parent or great aunt or uncle nearby, and it's a real treat for them to have family stop in regularly. Some ideas of things to do with them might include reading out loud, asking about their memories of growing up, asking about the story behind some of the special things in their home, and perhaps even sharing a dessert or meal.

Pay it Forward Day
Whether your teen is an only child or has siblings, a good way to teach leadership in showing kindness would be to ask your teen to do something nice for a sibling or parent. After that, each person does one more thoughtful thing for another in the family. Teens can do a sibling's chores, offer to help a parent make dinner or anything else that family members may appreciate. Perhaps your teen can see an area that is a struggle for a sibling, and they could help in that specific area.

Teach a Sibling Something New
Many teens like to talk about skills they have learned, and one way for them to showcase that constructively is to let them teach a sibling how to do something. If you have younger kids, they can make homemade slime together, learn how to write in cursive, or enjoy other screen-free activities. And if you have older kids, they could do things like return rebounds for the one that's into basketball or hang out in the garden with the one that's got the green thumb. These ideas help encourage family bonding, responsibility, and teaching skills.
Develop a Homeschool Newspaper
Creating a newspaper is a fun way to teach your teen organization, writing, and research skills. Your teen could talk to each person in the family to ask about their weekly accomplishments. Perhaps a sibling learned to dunk the basketball, broke a personal record in the 100 meters, or got their driver's permit. Ask your teen to design a newspaper with short stories about the week's events. Your teen can have fun with it by also drawing illustrations or using graphic design. There are some amazing ideas online for family Christmas newsletters or end-of-year newsletters, and now is a perfect time to start that project!

There are plenty of other fun ideas. Ask your teens for additional input, and try to plan a day for screen-free activities each week.
Get Becky's Weekly Newsletter on Homeschooling High School
We will never sell or share your email address.