Are you wondering what to get your family for Christmas this year? What about a gift the whole family can enjoy. Games! Gathering everyone around the fireplace or family dinner table for a game night is a great way to make special memories during the holiday season. 
We asked our Dual Credit at Home Community what their family favorite games are and received many suggestions. Here are the top 15 games we think your family might enjoy this Christmas!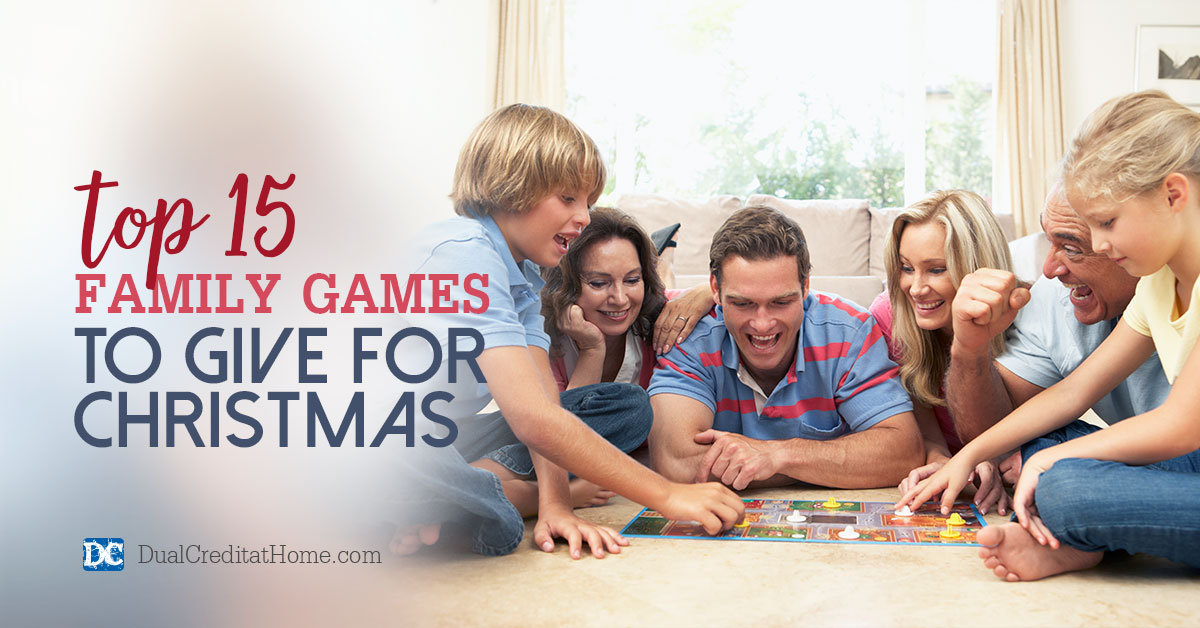 Ticket to Ride United States of America Map
"Ticket to Ride is a cross-country train adventure game. Players collect train cards that enable them to claim railway routes connecting cities throughout North America. The longer the routes, the more points they earn. Additional points come to those who can fulfill their Destination Tickets by connecting two distant cities, and to the player who builds the longest continuous railway. So climb aboard for some railroading fun and adventure."
Catan
Your adventurous settlers seek to tame the remote but rich isle of Catan. Start by revealing Catan's many harbors and regions: Pastures, fields, mountains, hills, forests, and desert. The random mix creates a different board virtually every game. Skills – Clever trading, strategy, tactical skill, luck. Type of Game: War games. To play with 5–6 players, the 5–6 player extension is required.
Phase 10 Card Game
"From the makers of UNO comes a rummy-type card game with a challenging and exciting twist! Phase 10 is the rummy-type card game where players compete against one another to see who can complete 10 varied phrases first"!
Farkle: The Classic Family Dice Game
"You may know it as Wimp Out, Zilch, or something else. Here, we call it Farkle. Whatever you call it, it is a game of luck and greed. Roll the dice, press your luck, and score. Reach 10,000 points and you win! Yes, it's that simple, but don't get too hasty. One bad roll, and you'll learn what it means to Farkle."
Mexican Train Domino Game
"The Cardinal Mexican Train Domino Game with Aluminum Case can provide hours of fun for the whole family. The Mexican Train Domino Game is a timeless classic that has entertained kids and adults for generations. This set includes the starter piece, double 12 color dominos, nine (9) markers and a score pad. An 8-inch by 8-inch aluminum case stores game pieces when not in use. An instruction booklet with rules for a variety of games is included with the set. Recommended for ages 8 years and up."
Codenames
"The two rival spymasters know the secret identities of 25 agents. Their teammates know the agents only by their Codenames. The teams compete to see who can make contact with all of their agents first. Spymasters give one-word clues that can point to multiple words on the board. Their teammates try to guess words of the right color while avoiding those that belong to the opposing team. And everyone wants to avoid the assassin."
Dutch Blitz
"Dutch Blitz is a friendly family game where players try to compose sets of cards out of the deck in such a way as to get rid of their Blitz pile as soon as possible. This game was created by a German immigrant from Pennsylvania Dutch country, and this game is very popular with the Pennsylvania Dutch and Amish community even today. This is a simple game that is easy to learn, and fun for everyone!"
Qwirkle Board Game
"Qwirkle is MindWare's must-have game and it is easy to see why! Simple to learn, yet strategic and exciting to play, Qwirkle is a favorite of all ages. Build lines of tiles that are all the same color or shape, with no duplicates. Score big by placing a tile that touches multiple pieces with matching attributes. Score even bigger by matching all 6 attributes and creating a Qwirkle!"
GOLO Golf Dice Game
"GoLo is the perfect combination of strategy and luck that golfers, non-golfers, grown-ups and kids love. Change your strategies depending on the type of game you're playing. If it's a 72-hole stroke play game, play a bit more conservatively. If it's a 9-hole winner-take-all game, it's time to get aggressive and go low!"
Trivial Pursuit Family Edition
"With cards for kids and adults, the whole family can get a kick out of this fun-filled Family Edition of Trivial Pursuit! Family members of all ages can test their smarts with question after question in 6 categories. The game's fresh questions and faster pace make for quick-play trivia, and with 1,200 questions (600 for adults, 600 for kids) you'll never run out of the learning, laughing fun in Trivial Pursuit Family Edition!"
Mastermind
"Test your code-cracking prowess with Mastermind, the challenging game of logic and deduction. The Codemaker sets a secret code, and the Codebreaker tries to match the code using logic, deduction, and maybe even a little bit of luck. After each move, the Codemaker gives clues to the Codebreaker. Make the code even more devious by using multiple pegs of the same color or by leaving one or more peg holes empty. With so many possible code combinations, every game is guaranteed to be a brainteaser!"
Pictionary
"In Pictionary, the quick-draw family game, count on big laughs as players find out who's an artist and who really isn't! In this game, the guesses can be just as hilarious as the sketches. This special edition also includes unique white-barreled pens with black ink and an exclusive Catch-All category with 400 bonus clues! Players use markers to draw their best rendition of the clue on the card, with a one-minute deadline. Is it an animal? A person? An action? What is that drawing? If team members just aren't getting it, try a different direction. Players take turns drawing, so everyone gets to channel their inner artist! And the laughs just keep coming!"
Scattergories
"In the Scattergories game, teams come up with answers that fit the categories listed on their card. Sounds easy, but the answers need to start with the letter rolled on the die! Come up with as many answers as you can before time runs out, but be creative – your team only gets points if no other team has the same answer."
Taboo Kids vs. Parents
"Kids and parents can experience the excitement together in this edition of the Taboo game. The game includes 2 decks of cards featuring a deck designed especially for kids, featuring a familiar Guess word and only 2 forbidden words on each card. Players race against the included timer as they give clues to get team players to guess as many words as they can within a minute. But don't mention unmentionables, or it's time for the squeaker, which means losing the point."
Sushi Go
"Pass the sushi! In this fast-playing card game, the goal is to grab the best combination of sushi dishes as they whiz by. Score points for making the most maki rolls or for collecting a full set of sashimi. Dip your favorite nigiri in wasabi to triple its value. But be sure to leave room for dessert or else you'll eat into your score! Gather the most points and consider yourself the sushi master!"
As you can see, the choices are endless. Grab a few new games this Christmas and make special memories with your kids they will never forget.
Get Becky's Weekly Newsletter on Homeschooling High School
We will never sell or share your email address.