I'm sitting here looking at my 6-week old little boy struggle, as he can't find the pacifier. You might reasonably think; "What are you thinking about homeschooling for?" I should enjoy being a Dad. I shouldn't rush through the little moments of this stage of life. There is still plenty of time to sort through all of these decisions later, so just take it one step at a time. If you are having these thoughts, you are right. I still have a solid chunk of time left for this one. We are two years closer to that stage with my oldest daughter, but the point isn't time.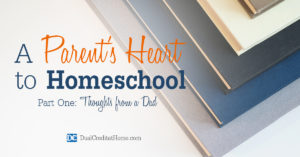 The point is understanding my role as a parent. There is a multitude of different ways to get my 6-week old infant to the point of a well-adjusted, educated, God-fearing, and productive adult. I'm not here trying to sell you on some quick two-step process to parenting. I laugh at the very thought of that. I'm simply saying that whatever the future holds for this little finger-clutching, blue-eyed, and adorable little boy, I'm going to own it. Along with his mother, we will be the ones that are responsible for his education, his social development, and his spiritual well-being.
Delegation is the machine that makes our modern world work. Ever since Adam Smith pioneered the thought that we get more done when we specialize in one aspect, we have narrowed our focus more and more. Sometimes we only have knowledge of the one thing that brings home our paycheck. On the battlefield that is American culture, I can't know just one thing. 
This doesn't have to be overwhelming. I'm not growing our own food in the backyard. We will still take advantage of the experts that he needs. As our children mature and show their own personalities more and more, we will continue to change to adapt to their God-given abilities. This may be a robotics class, and it may be a basketball camp. I'm not going to limit his opportunities, but I am going to broaden my responsibilities. 
Kellie and I can't delegate our children to someone else. This is true in the classroom, the pew, and the playground. I'm not going to hover, but when anyone asks whose kid this is, I am going to stand up. He's mine. I'm pretty excited about it. 
Get Becky's Weekly Newsletter on Homeschooling High School
We will never sell or share your email address.