I was rocking my newborn in the church nursery last week when a friend asked me if I planned on starting any kind of school with my toddler this fall. I laughed a little bit and told her that we would probably wait a little while. My two-year-old can barely handle her spoon at lunchtime, let alone manage a proper grip on a pencil!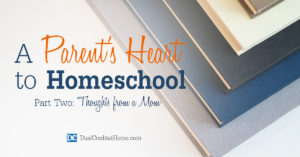 Although I don't plan to buy any curriculum for the fall, I still plan on teaching her. I plan to teach her the alphabet and reinforce her knowledge of shapes and colors.  We are going to keep practicing counting to ten, and we will read aloud during the day and at bedtime. As we go about daily life, I hope to prepare her with the skills and knowledge she will need when it comes time for a structured school day, and even into adulthood.
I expect that most of you are a few years ahead of me in this parenting thing and that your children already know their alphabet quite fluently! However, I know that we have something in common: We love our kids and want to prepare them to fulfill their God-given potential and have the best future possible. 
If I want my daughter to be a smart, kind, brave, and thoughtful adult, I need to start teaching her these things today. If I want her to love stories and books, I need to put time into energetically reading aloud to her. If I want her to be excited about learning, I need to stop on the way to the car to show her spider webs and anthills. My toddler needs me to help her become a successful adult by helping her be a happy and curious toddler. She needs to know that I love her, and that I am here to help her reach the things off of the cabinet, and that I am excited to hear what she has to say.
Preparing your kids for the future may look more like helping them choose a career path and talking about degree plans. Your days may consist of driving to extracurriculars and helping with algebra. Your teen needs you to help them become a successful adult by helping them to be a successful teenager!  They need you to love them, and they need you to be excited to hear what they have to say! For teens, rather than reaching things off of the cabinet, you are showing them that they can reach their goals!
As moms, we want to do everything we can to set our children on a path to an enjoyable adulthood. I have little babies, so my task for today isn't picking out a degree plan or even 1st grade curriculum! Today, my job is to sing the ABC song a bajillion times and teach "Be Ye Kind" on a toddler's level. I am raising her to be a successful adult by taking care of today's needs while keeping my eyes on who I hope she will be in the future.
Get Becky's Weekly Newsletter on Homeschooling High School
We will never sell or share your email address.