Our family took a trip to the zoo today. As we walked out of the exit and I finally saw clear pavement in front of me instead of someone else's Nikes, I breathed a sigh of relief. I'm not one for big crowds, and I have definitely appreciated every opportunity for "Social Distancing" that I have been afforded over the last 16 months. A little silver lining on a terribly black Covid cloud. To be honest, Covid has in small ways made some things a little easier.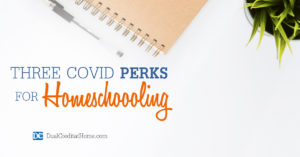 Off campus learning is being normalized
People have begun to realize over the last year and a half that education can take place at home. They have also begun to realize that it is a lot of work to make sure true learning is actually taking place. Almost everyone is familiar with video everything. From executive meetings to on the job training and 3rd grade math to virtual cooking classes, people have been forced apart and forced to improvise. We in the homeschooling world have been well prepared to continue on with a much greater degree of normalcy than those who require physical and on campus classrooms. 
Remote testing is readily available
This is huge for some of our DCAH families. The College Board(the organization responsible for CLEP tests) now allows remote proctoring. There are some basic requirements for your system and how the area where you will be taking the test needs to be set up. You can read more about this from the College Board here and our blog article about it here. This is a great benefit especially for anyone in a rural area. 
New learning opportunities abound
From virtual basketball camp to online robotics classes things are changing. There are a multitude of offerings that would normally be reserved for on campus or a formal classroom setting that are now being offered to a broader audience. These learning opportunities are out there but it does take purposeful living to broaden our horizons and build relationships that keep our knowledge expanding. 
Slowly the world is returning to some form of normalcy. I do think it is important to reflect on the last 16 months and realize the things that have improved. And remember that whether in the middle of a pandemic or an uninspiring Tuesday afternoon, I can do all things through Christ which strengtheneth me.
Get Becky's Weekly Newsletter on Homeschooling High School
We will never sell or share your email address.