The start of a new school year is always nostalgic. Whether it is remembering your first day or remembering your kid's first day, it brings with it feelings of progress and it pulls us face to face with the unknown of the future. The future can be scary and it can be exciting. Fortunately, we get to face it with colored pencils and a new planner. Hopefully, you can use these three tips for starting your school year off right!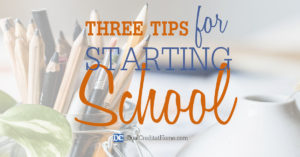 Set tangible and attainable goals
Understand what you are wanting to accomplish this year. As a homeschool parent, you will have to break your mind away from the curriculum and know what you want your student to accomplish. Our primary goal should be to learn something useful. A secondary goal will be to complete the curriculum. 
Let's say my goal is for my student to understand basic economics. At the end of the school year, the textbook is finished and the lessons are completed. That doesn't necessarily mean we accomplished our goal. Maybe a better goal is a weekly conversation about current events and their economic impacts and seeing growth and familiarity on the topic over time. 
Whatever you decide, make sure that it is doable and addresses the heart of what you are trying to accomplish. These goals should definitely be communicated well. 
Set boundaries
Students and parents do best when everyone knows where the lines are. Structure is a great help to the student and a great help to a teacher. Most often we think of this as a schedule. Working with your student to develop a schedule and a code of behavior will go a long way to smoothing out the days ahead. 
Teens especially need accountability and a system to be able to thrive in. This is going to look different for every family, but failing to set this up leads to frustration and bitterness. A parent that feels like they are behind every day from a late start time but hasn't communicated a proper schedule is only adding frustration to an already burdened student.  
Another way of understanding boundaries is by the way that we act. During school hours your family might have to behave a little bit differently. This is going to plant the seeds of working in a professional environment. A student or a parent shouldn't interrupt a teen that needs a quiet place to focus or who has a short attention span. 
Have fun
The homeschool experience is exactly what you make of it. Sometimes we plan for success and forget to have fun. Start your year off with some excitement. This doesn't have to be a big planned trip to the city science museum, but it can be a picnic in the park for lunch. The school year really is so much more enjoyable with colored pencils and a new backpack, so decorate the study room (or study corner 🙂 )and make pizza that first night.  
Take time to schedule it out. Set reminders on your phone to write a note of encouragement after each milestone even if they didn't get the greatest grade on that quiz. As teachers, we can get bogged down in the busyness of it all and forget that we need to be leaders and energy givers. We have a God-given responsibility to train up our children, and it sure is a whole lot of fun. 
Get Becky's Weekly Newsletter on Homeschooling High School
We will never sell or share your email address.