No two Dual Credit At Home students are the same. This seems to be a hallmark of homeschooling itself, as vastly different people sometimes do the same curriculum or class load for vastly different reasons. Through that lens, we do see several different trends develop and similar lines of questions arise. Don't think that these 3 paths are by any means the only ones, but hopefully, this will provide a better picture of what these paths are and how to navigate them.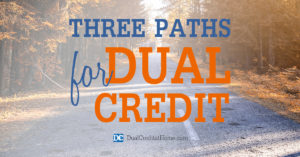 Skip the basics
Currently, a very popular degree path in America is kinesiology (Physical Therapy.) This degree requires a little bit more than head knowledge. Labs and actual hands-on experience are not things that you can test out of very easily. However, any kinesiology degree is still going to require you to take English 101. 
The University of Iowa is an in-state university that allows 30 credits to be transferred. We recommend contacting your school of choice to get the details on what they allow as plenty of schools allow more. On the low end, skipping 30 credits cuts an entire year off of a traditional degree and can save tens of thousands of dollars. 
Graduate Prep
Another path that we see quite common is to complete the entire 4-year degree through testing and Dual Credit. This is exactly what I did. I didn't complete the entire 4-year degree by the end of high school, but there isn't a requirement that it be done that way. This paved the way for me to attend seminary while saving almost a quarter of a million dollars in tuition.
Lawyers, clergy, professors, and plenty of other career paths require work past the college level. Completing a degree through dual credit and testing takes an enormous financial burden off of the student while saving years of covering the basics again that could have been covered in high school. 
Next Level Highschool
Plenty of our families want to take dual credit courses to provide flexibility for their kids. A fifteen-year-old student should definitely be allowed the flexibility to choose a different path for their life, but having the dual credit foundation already laid is a huge benefit. This provides flexibility in many ways.
Some students might graduate high school and decide to enter a trade instead of college. Dual credit has given a depth to their education that makes them hold their head high around their peers. They don't have to apologize to anyone for not going to college. 
Hopefully, this short explanation of some of the different paths available will help you see how you can best help your student. Please let us know if you have any questions as well!
Get Becky's Weekly Newsletter on Homeschooling High School
We will never sell or share your email address.