---
5 Benefits of Earning Dual Credit During the Summer
If you're thinking about enrolling your teen in a dual credit program this year, now might be the perfect time to get started. Here are 5 surprising benefits of starting Dual Credit at Home in the summer months this year.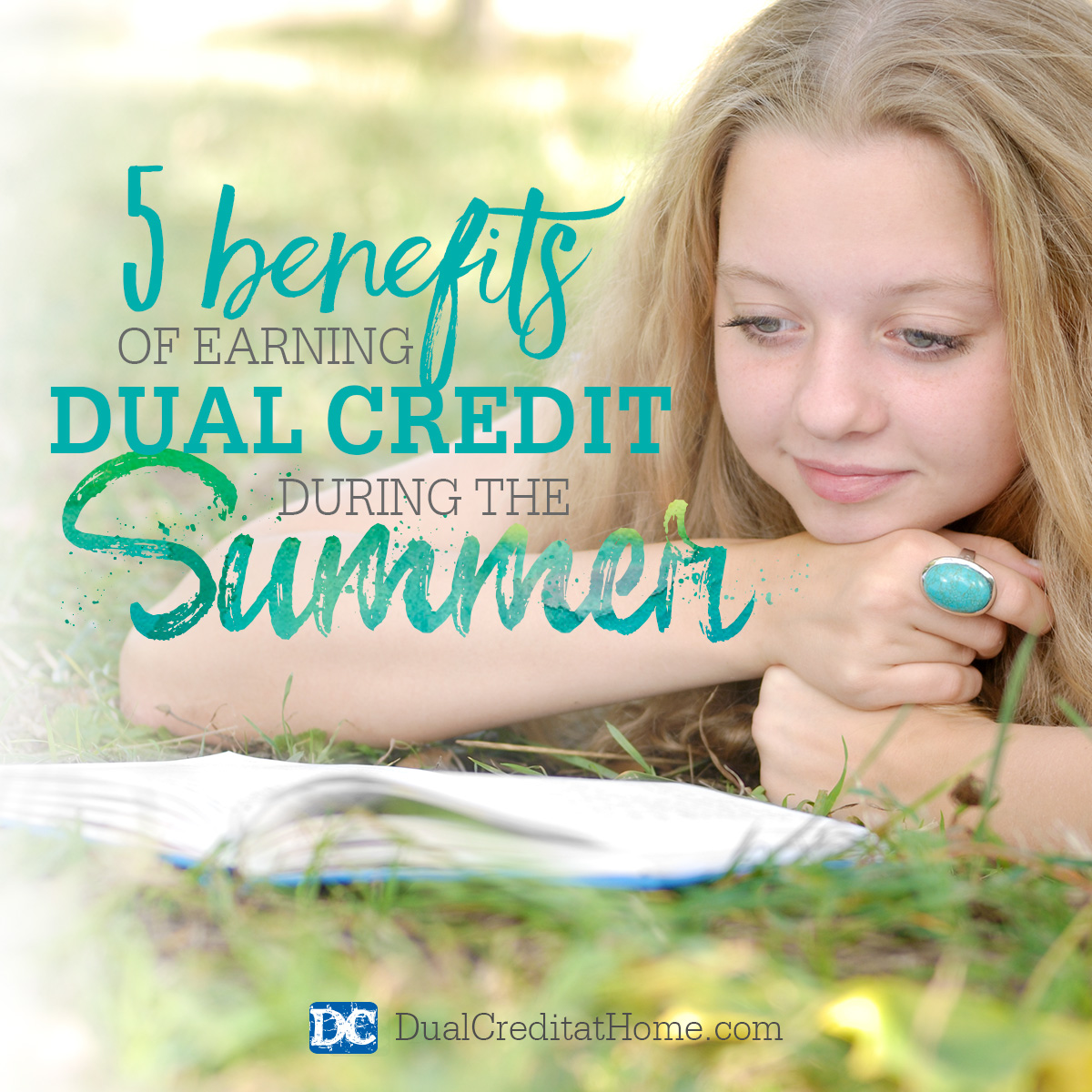 Take Advantage of a Slower Pace by Starting in the Summer
Homeschooling families often use this tactic — homeschooling throughout the year — so they can progress slowly and steadily instead of studying in stops and starts. The same strategy can work for dual credit students.
They can give themselves more time to complete assignments and prepare for exams by working through the summer months. Starting in the summer is especially helpful for students who tend to get stressed and overwhelmed by heavy course loads.
Get a Head Start on Your College Education
Students who don't want to work at a slower pace can zip through their assignments and exams as quickly as they feel comfortable. Many students use the summer to get a jump start on earning college credits. Dual Credit at Home is a flexible option for students who want to work at an accelerated pace to earn college credits quickly.
Build Momentum with Summer Coursework
We all know how hard it can be to jump back into academics after an extended vacation. By starting dual credit courses in the summer, your students will be in full swing by the time fall rolls around. Skipping the summer break will enable students to build momentum and establish a routine.
There are Fewer Distractions in the Summer
The school year can be overwhelmingly busy with sports, music, and other extracurricular activities. For most families, summer tends to move along at a slower pace. There aren't as many deadlines, appointments, and schedules filling our days. Summer is a time to sleep a little later and relax a little more. For dual credit students, summer is also a time when they can study for exams without so many distractions.
Encourage Independence and Self Confidence
Starting a dual credit program in the summer is a great way to encourage your students to work independently. Allow them the freedom of days that aren't quite so structured so they can create their own schedules and meet their own deadlines. This will also encourage them to take charge of their education, set goals, and work confidently through the material.
As the academic year starts to wind down and spring gives way to summer, it's a great time to start planning your teen's dual credit studies. Starting with Dual Credit at Home in the summer is a great way for new students to ease into a regular schedule of credit by exam.