If you're considering alternative paths toward college credit, both the CLEP and DSST exams can help you on your journey. Credit-by-exam, as these tests are sometimes called, allows you to skip expensive college classes altogether, and instead prove your knowledge in certain areas to obtain college credits.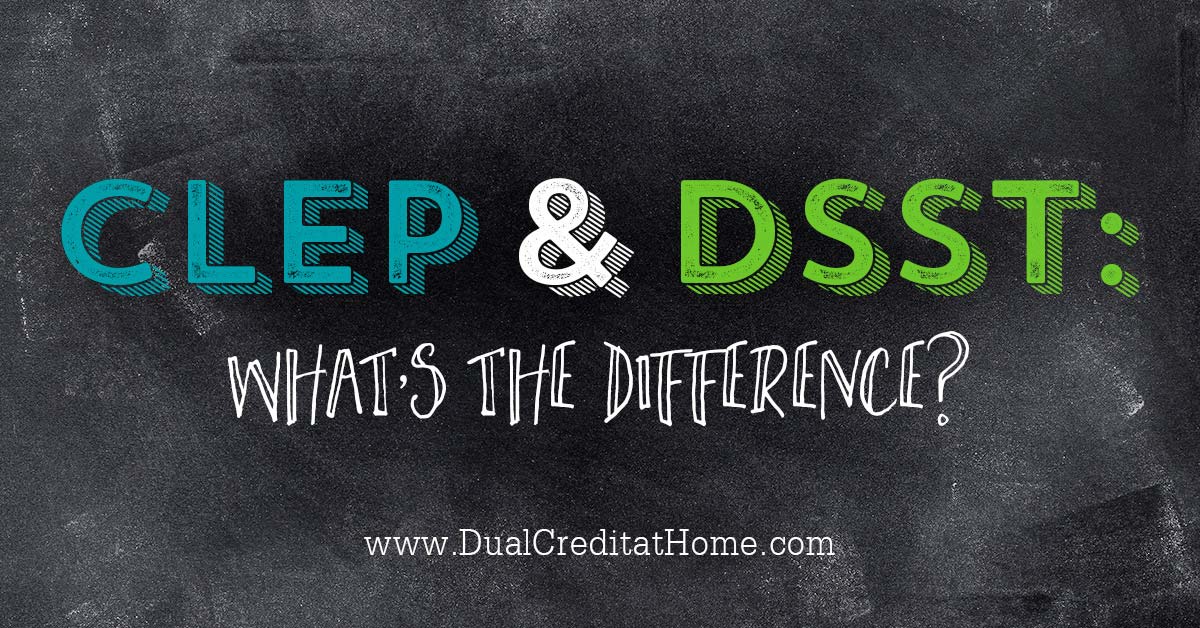 Homeschool students can use the exams to receive dual credit for both high school and college. (Typically, it's the studies of the subject that earn high school credit and the passing score on the official exam earns the college credit.) The CLEP and DSST exams are similar in many ways, but there are a few differences that are worth noting.
RELATED: Get our free e-book to learn how our family used CLEP & DSST exams to save over $300,000 on college degrees!
First, you should know that there are no prerequisites to taking these exams. You don't have to be a college student, and you don't even have to be an adult. You just have to be willing to sit for the exam. If you don't pass an exam, it isn't counted against you. You can retake the test in 90 days.
The CLEP and the DSST exams cost $80-$90 per test. You will also pay an administrative fee to your testing center, which is different from place to place, but will range anywhere from $20-$30.
Subjects Covered
CLEP offers 33 exams in five subject areas — History and Social Science, Composition and Literature, Science and Mathematics, Business, and World Languages. The exams cover general education requirements that are usually taught during your first two years of college.
DSST offers more than 30 exams in six subject areas— Business, Humanities, Math, Physical Science, Social Sciences, and Technology. They cover both general education requirements and more advanced subject areas, with a strong emphasis on business and technology.
Related Article: How Dual Credit Works for Homeschooled Students
Format
Both exams are taken digitally unless you request a paper exam. They both include 100 questions in a multiple choice format. The CLEP exam gives you 5 possible answers to choose from, while the DSST gives you four. You are given 90 minutes to complete each CLEP exam and two hours to complete each DSST exam. Some CLEP exams have an essay component.
By taking a combination of CLEP and DSST exams with help from Dual Credit at Home, you can earn up to 51 college credits without setting foot in a traditional college classroom. Visit our About page to find out how you can save both time and money on college credits.