---
3 Ways You Can Help Your Younger Homeschooled Siblings
Do you have younger siblings? Do you want to try to help them succeed in whatever they are working through right now but you aren't sure how?
Thinking back on my homeschooling experience, I've had many different siblings come alongside me and help me through different stages in my life. I have six older siblings, and so there is a wide variety of skills that they were able to impart to me, ranging from martial arts to quilting! I am so thankful for their influence in my life! I wouldn't be where I am today without their support and encouragement.
Maybe you have some ideas on how you can help your younger siblings learn and grow. Or, maybe you just want to be an encouragement to your siblings, or help them develop vision and passion in their lives?
Here are three ways to invest in the lives of your younger siblings: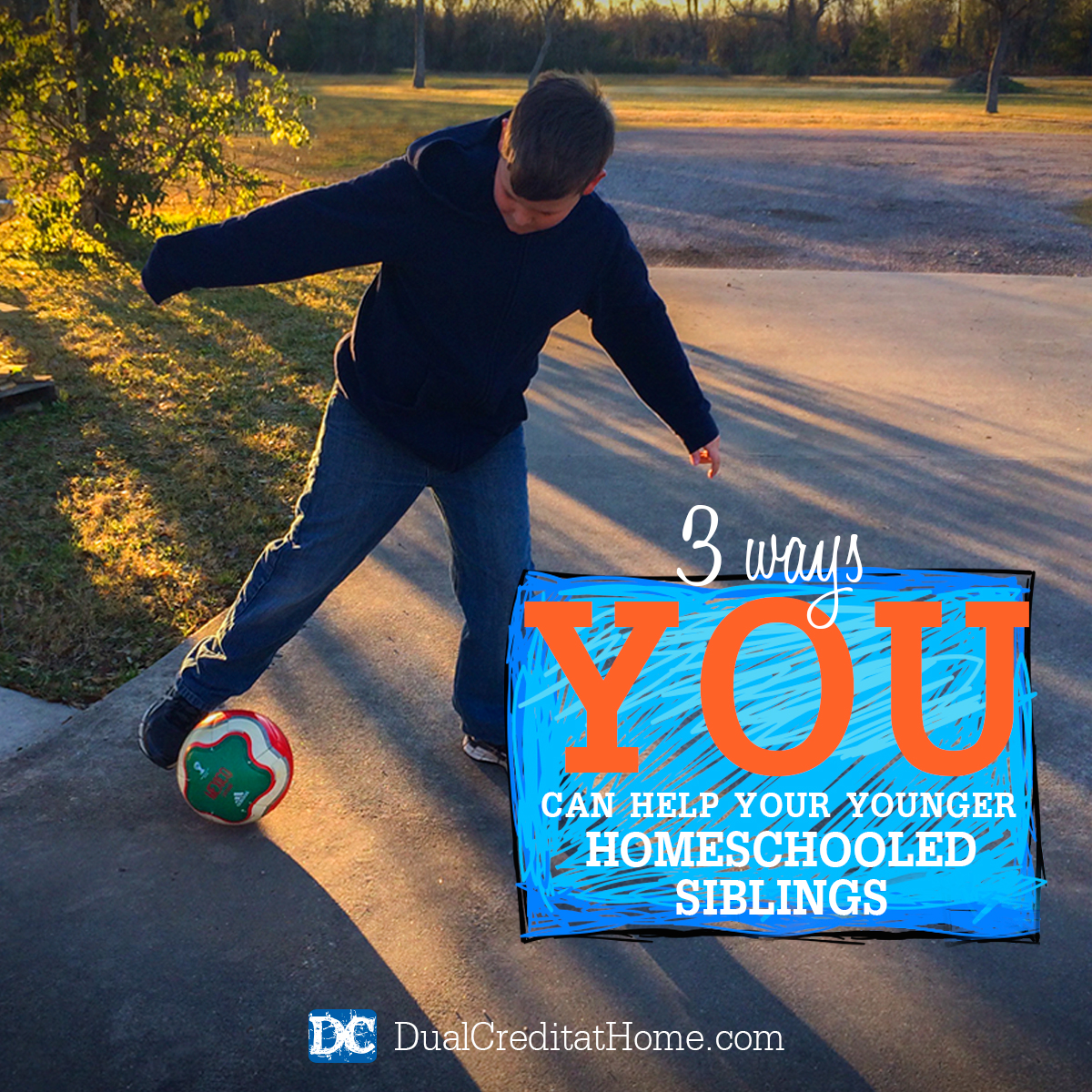 1. Help your younger siblings by offering to review work before they finish, so that they can improve the quality of their work.
Just the other day, my younger sister, Kristin, needed help with her math (she hates math!). She was rather in the "depths of despair", so I asked if she wanted me to help her by reviewing each problem before she turns it into mom to have it graded. She gratefully agreed, and now we have a great system going!
Keep your eyes open for what your siblings' needs are. Maybe they have a certain chore that they don't quite know how to do, or a school subject that they are struggling with. You can help them with these things!
Being willing to help your younger siblings is a win-win situation and will also build a better relationship between you both.
Tip: Make sure to avoid bossiness in your voice and attitude, and make sure they know you're not trying to be another mom!

2. You can help your younger siblings develop their own goals.
I appreciate how my older siblings helped (and continue to help!) me look forward and plan for the future. Their excitement for and dedication to their own future plans inspires me to develop mine!
Find ways to encourage your younger siblings to set goals and think ahead. Do they want to get college classes done in high school? Do they want to save a certain amount of money? Learn a new language?
You can also look for common goals you and your siblings share! Working towards character growth, fitness goals or even Scripture memory together can bond you for life!
3. Help cultivate your younger siblings' interests in hobbies.
My youngest brother, Jason, has recently developed an interest in soccer. To help him get better and to cultivate his interest, I've been trying to help him practice it a little bit each day, and have also spent some time kicking the ball around with him.
Just like you can look for opportunities to help your younger siblings with their school, keep your eyes open for any little thing they have an interest in, and give them opportunities to grow in those interests!
It will give you a sense of older-sibling-pride when you know that your brothers and sisters are good at a lot of things, and that you helped them get there!
I hope these three tips have given you some good ideas about how to help your younger siblings flourish!