Homeschool students can maximize their time and college savings by taking CLEP exams that offer the most college credit.
The following exams are considered to be worth six credits or more, according to the American Council on Education, although individual institutions make their own decisions on which exams to accept and how much credit to grant.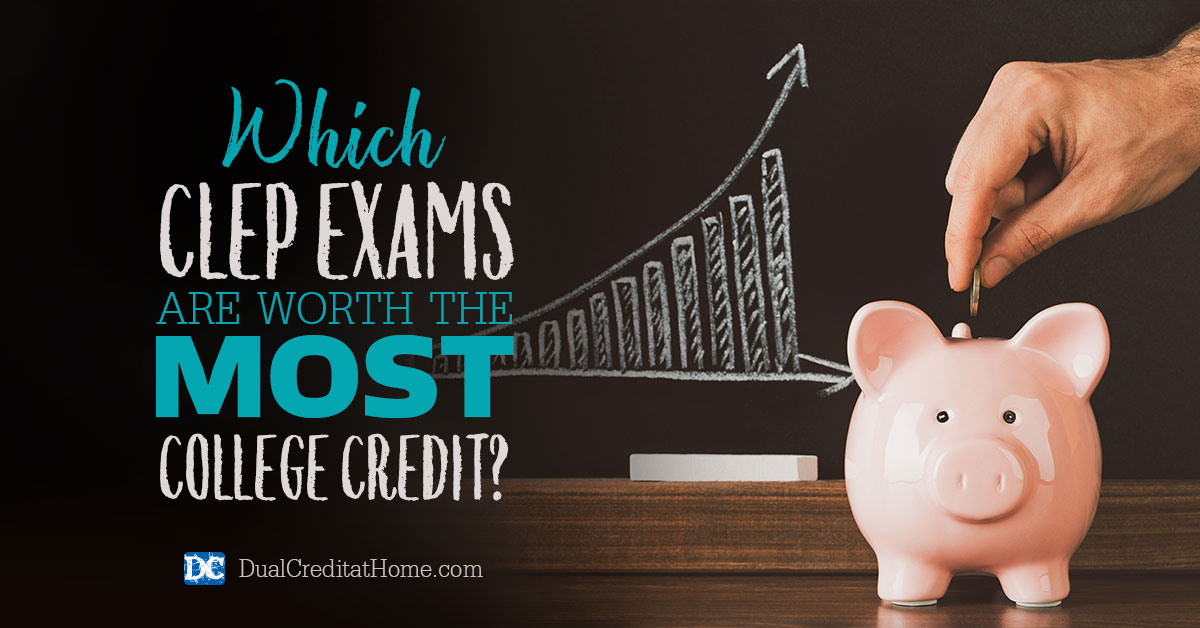 If you have a college in mind already, check with them to verify how much credit they typically award for these CLEP exams.
Social Sciences and History is typically worth six college credits. This exam is designed to test for broad knowledge of social sciences and history topics equivalent to the general education requirements of most colleges.
Preparation should include advanced high school work in several of the following areas: American history and government, western civilizations, introductory psychology, sociology, and economics. Check out our guide for the Social Sciences and History CLEP to see if this exam is right for your student.
Science options include the Natural Sciences exam, Biology exam, and Chemistry exam.
While ACE recommends 6 credits for each of these examinations, be sure to check your college's specific guidelines. Some institutions, including Charter Oak State College, will still require a laboratory course.
Students in STEM majors may be required to take the courses in their major, but liberal arts majors can often fulfill all or part of their general education science requirement with one or more of these exams.
Natural Sciences covers a broad range of life and physical science topics, while Biology and Chemistry are single subject exams. A good test preparation guide with sample examinations will help students cover most of the relevant science subtopics on your chosen exam.
College Mathematics is an exam intended to fulfill general education math requirements for liberal arts majors. It typically is also worth six college credits.
A scientific calculator is integrated with the examination, so it is important to become familiar with its functions by practicing beforehand. We don't recommend that students attempt this exam until they have mastered Algebra II.
Students will need an understanding of functions and modeling in algebra, counting principles and probability, statistics and their interpretation, calculation of interest, and some set theory and logic. A high school course in finite math would cover most of these topics.
Finally, the modern languages examinations are designed to offer the opportunity for either six or twelve credits, depending on how high the tester scores.
CLEP Level 1 scores are good for six credits, Level 2 scores for twelve. There are CLEP language exams for French, German, and Spanish.
Level 1 scores should be equivalent to the first two semesters of the language at college level.
As a rule of thumb, a year of diligent high school language study is comparable to a semester of college study. Thus, if you have studied one of the three languages for at least two years and worked hard, you should be able to pass the CLEP exam.
You will be tested on both listening and reading skills, so balance your study to include vocabulary drill, grammar review, listening to dialogues, and reading in your chosen language.
The internet offers opportunities to listen to news programs and entertainment in these languages. A good grammar book and a test review guide can round out your study.
Our Dual Credit at Home CLEP Study Plans cover three of these high value CLEP exams — College Mathematics, Social Sciences and History, and Natural Sciences. You can learn how our program works by attending our free online workshop, How to Earn a Bachelor's Degree during High School.
Get Becky's Weekly Newsletter on Homeschooling High School
We will never sell or share your email address.