My family LOVES Christmas. It's extreme, honestly. We start decorating the house on November first because if we started after Thanksgiving like everyone else, we wouldn't even get all of our decorations up in time for Christmas day itself! True story!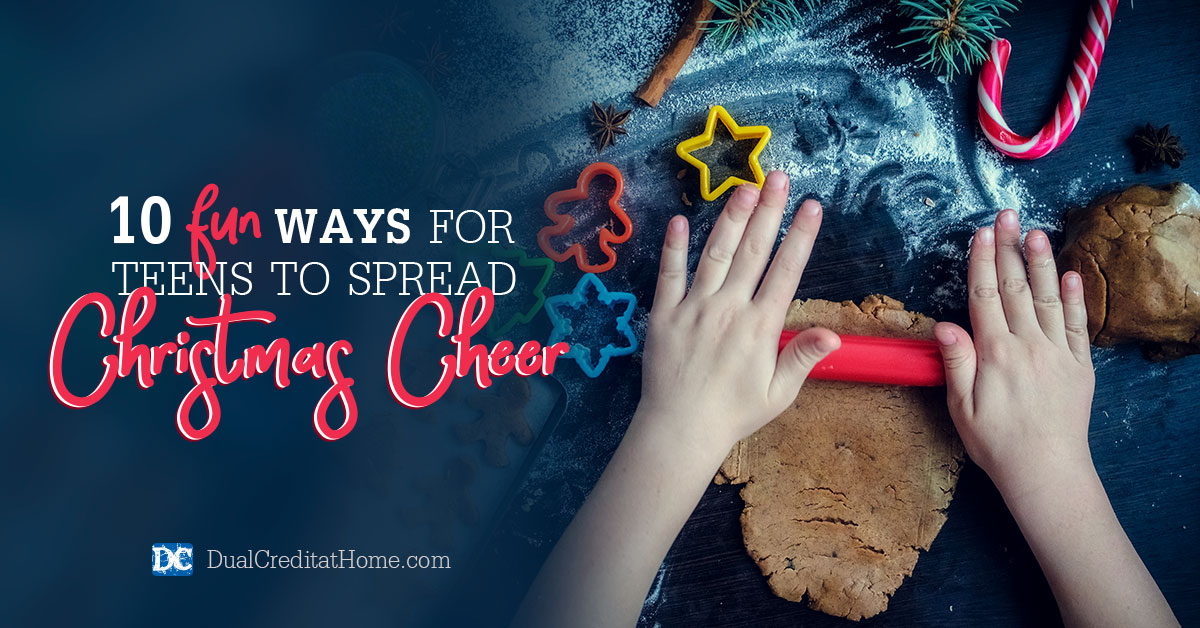 BUT, even in my family, with all our Christmas spirit, we can't afford to be frivolous in our festivities! We've had to seriously wrack our creative minds (and Pinterest) over the years to put together this list.
Here are ten simple, effective ways MY family enjoys being a blessing to our community during the holiday season.
1. Bake Cookies
Our family has discovered that cookies are one of the easiest ways to make homemade gifts in large quantities! We send cookies to friends at church, neighbors, and even my dad's co-workers!
2. Sing/Play Carols
Visiting local nursing homes as a family (or with friends) and singing or playing a few carols is a very simple and inexpensive way to really brighten the season for the people you visit! I love doing this any time of the year, but there's something special about the holidays. It's totally a blessing to be a blessing!
3. Help the Neighbors
If you have any elderly neighbors, they might really appreciate your help putting out Christmas decorations, raking leaves leftover from fall, or bringing in their plants for the cold weather.
Neighbors with young kids could use a babysitter while they Christmas shop or attend a work Christmas party. Of course, you don't want to be taken advantage of, but if you know someone specific who may be in need of help in one of these areas, it would certainly be of the Christmas spirit to offer help!
4. Host Parties
Going back to the part where I told you my family starts decorating our house on November first: we have a lot of Christmas decorations. Like, I'm talking 15+ Christmas trees. With all the get-up, it's a blast to host Christmas parties!
We especially like to keep the parties small with just a couple of families at a time, and we have fun activities like cookie decorating, ornament painting, and carol singing! From a teen's role, if this sounds like something you'd want to do, talk to your parents and offer to take care of all the preparations and clean up!
5. Secret Acts of Kindness
Pay for the coffee order behind you at the coffee shop. Tape quarters onto the shopping carts outside of Aldi. Whatever you do, don't get caught!
6. Unconventional Gifts
One year, a friend from work gave me three boxes of instant hot cocoa and socks for Christmas. Conventional? Not really. But I still wear the socks and I totally enjoyed the cocoa.
Since then, when I need to buy gifts for people outside my family and friend circles, I am more intentional about avoiding knick-knack type gifts that add clutter. There are lots of options, but foods and drinks are often pretty affordable, and are enjoyed and will be used up.
Practical gifts like good ink pens are sorely underrated, too.
7. Share Your Talents
Do you enjoy photography? Offer to take Christmas card photos for families you know!
8. Send Christmas Cards
Speaking of Christmas cards, your extended family members would love to see an updated picture of your family, and maybe a few notes on how everyone is doing. Offer to help make this happen!
9. Mail Care Packages
Do you know missionaries? Expat friends? Cousins who are stuck out-of-state for the holidays with their work schedules? Last year I sent candy and dozens of handmade Christmas cards to a church I used to work with in Taiwan for the kids at the Bible club! It doesn't have to be fancy!
10. Say, "Merry Christmas!"
Finally, just have a good attitude! It feels like a lot of people start to feel rushed towards the end of the year, and they're just "trying to make it through". Being generally joyful, greeting people, saying "Merry Christmas", etc. are great ways to be a light in your community this season.
Get Becky's Weekly Newsletter on Homeschooling High School
We will never sell or share your email address.