It's getting dark earlier, and many of us will be spending more time at home in the evenings. We want to help you make the most of this extra family time! Everybody loves a good night in, but if your family is anything like my family (growing up and currently!), you can easily spend the majority of "family night" just trying to agree on what sounds fun! Hopefully, these suggestions can help take some of the guesswork out of planning a night in, and your family can spend the evening doing actual activities instead of just throwing around ideas! Here are some ideas for a fun-filled family night!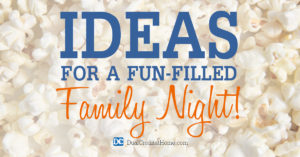 Food!
Every good night, whether you're going out or staying in, should include great food. Homemade pizza is a go-to for my family! The whole family can join in, and making your meal can be half of the fun! We really like this recipe for thin pizza crust!
Another fun food to try is stove-top popcorn! It is just as delicious but takes a fraction of the time that pizza does. Make several batches and let each family member season their own bowl! Chili Powder and lime juice is my personal favorite, but the options are limitless. Have fun with it!
Games!
Games can add fun or frustration to a family night. You've seen all the memes about board games splitting families, right? I personally choose to avoid games with too many rules or games that can lead to anger management classes! 😉 A game that my family really enjoys is  Telestrations! It's a combination of Pictionary and telephone. I promise you that your entire family will laugh! Artist or not, this is a smile-inducing game for sure.
A different type of "game" we've enjoyed recently is creating and playing our own life-size Clue game! Pick which rooms of your house are your game board, choose a few "weapons" and you are the players!  Find out who the best detective is in the family!
If you still want more game options, here is a blog post with game ideas that we put together a while back. There are some great games on the list!
Entertainment!
We understand that finding something appropriate, well done, and entertaining for the whole family is no easy task! Here are a couple of ideas that can hopefully make that chore a bit easier! Sight & Sound TV is a great option. They offer pay-per-view options for their incredible Bible story productions. It can feel like you're watching a live performance right in the comfort of your own living room, but you can pause it to go grab another slice of that delicious pizza you made earlier!
 Another well-done, entertaining, and powerful viewing option is The Chosen. The producers have done an incredible job of bringing Bible characters to life while "sticking to the script" and not adding the typical Hollywood plot twists.
The point of family night is to spend memorable, quality time with the most important people you know. So whether you use any of these ideas or not, I hope that you find time to make the best of your family time, while making fun-filled memories that last for longer than just a Friday night. I'd love to know what your family does for family time, so send us your ideas. We love hearing from you!
Get Becky's Weekly Newsletter on Homeschooling High School
We will never sell or share your email address.