CLEP exams offer a great way for homeschoolers to save time and money by testing out of classes that would have covered material that teens have already learned or can learn on their own at home.
But before registering for a CLEP exam, it is crucial to make sure that it is the best possible way forward, and more to the point, that it will not be a waste of time and money. These questions can help you and your teen make the decision.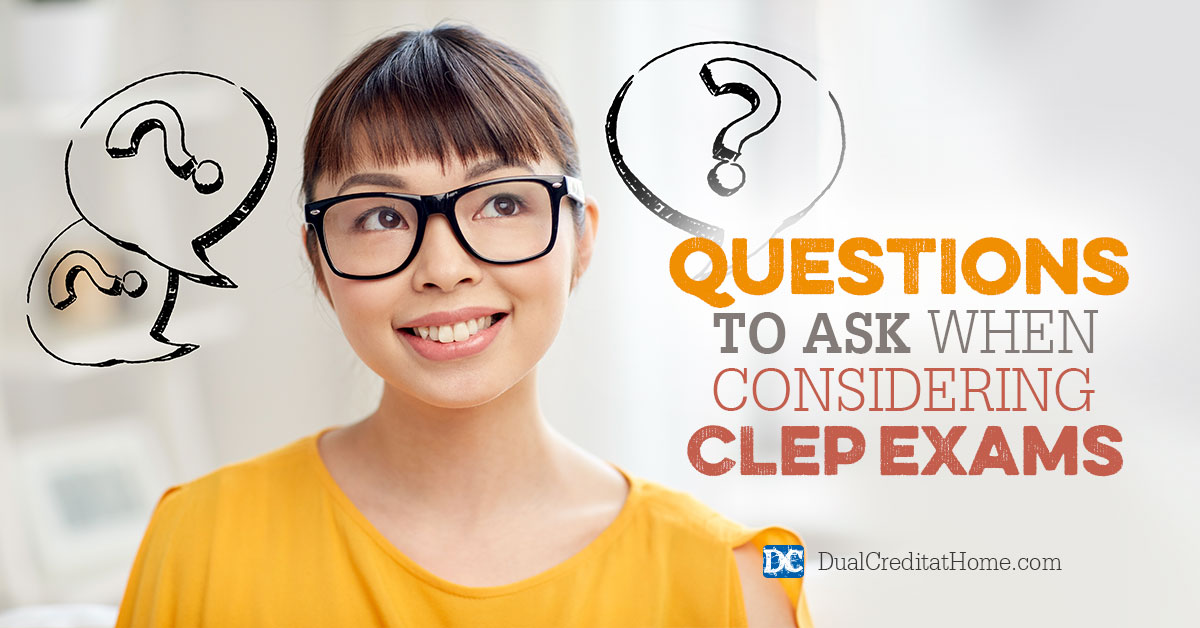 Is my teen willing to do the work of studying for a CLEP test?

First and foremost, it is essential to make sure that your teen is willing and motivated to attempt taking a CLEP test.
Your teen will likely have to put in a significant amount of study time in order to pass the exam, and there will not be any added pressure of grades or college professors to keep them on task.
Will testing out of this exam help my teen reach their academic goals?

For example, if your teen wants to major in science, it may make more sense for them to take a biology class rather than the CLEP test, allowing them to build relationships with professors and classmates and further their education with hands-on work.
But if your teen is eager to accelerate certain subjects so they can have more time to focus on other areas, CLEP can be a great option for your family.
Does my teen's college accept this CLEP exam for college credit?

It is important to know whether your college accepts CLEP credit. Some colleges have unique guidelines on CLEP acceptance, while others simply do not accept the tests.
Additionally, like we mentioned earlier, it is important to know how a CLEP test will be used. If you have a college in mind, work closely with them as you examine the degree plan to make sure that the CLEP credits will be accepted.
What textbooks can I use to study?

Depending on the subject of the exam, there are a number of CLEP prep books out there.
These often represent the best starting point, as the authors have written the text with the exam in mind. It is also useful to find a good introductory book for the course in question. You can often find used books for relatively cheap, as even if the book is not the latest edition, it can still help your teen prepare.
You can also consider a CLEP study program, such as Dual Credit at Home. Our program helps prepare students for 13 CLEP and DSST exams that can meet general education requirements.
Where can I find a CLEP practice exam?

CLEP practice exams can be found through exam prep guides, the CLEP website, and some universities. Additionally, a number of websites that offer CLEP test prep.
How many hours a week does my teen need to study?

The question of how much to study each week depends on how much time your teen has available as well as their knowledge of the subject. It is also important to make sure that your teen is regularly studying for the exam, even if it is only to review for fifteen minutes, as this will help make sure that concepts are retained more easily.
Did you find this article about CLEP helpful? If so, watch our free online CLEP workshop that will help you and your teen get started with CLEP!
Get Becky's Weekly Newsletter on Homeschooling High School
We will never sell or share your email address.